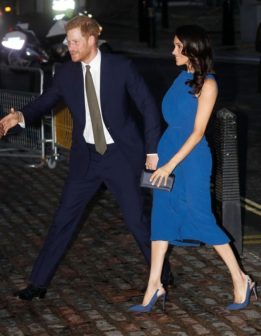 Netizens are waiting for the big announcement from the world-famous newlyweds after the Duchess of Sussex provoked speculations with her loose-fitting outfits at Princess Eugenie's wedding.
Twitter users suggested that Meghan Markle was hiding big news about a new heir in the line to the throne under a long-sleeved loose-fitting coat and a sweeping dress as soon as photos from Princess Eugenie's wedding were released.
Markle's choice for the big day was in contrast to her signature look; the American Duchess is known for sleek dresses and high-waisted skirts.
This immediately fueled the Social Media rumor mill with pregnancy speculations.
While Kensington Palace is keeping silence about Prince Harry and Duchess Meghan becoming parents, netizens have nevertheless voiced their feelings and assumptions on Twitter.
Catherine [email protected]
If Meghan Markle is pregnant, I cannot WAIT for that little biracial baby nug 🤗 #RoyalWedding
7:05 PM – Oct 12, 2018
[email protected]
Calling it now, I reckon Megan Markle was hiding a lil baby bump under her coat today