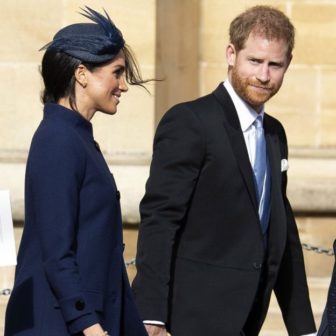 The Duchess of Sussex is pregnant and is due to give birth next spring, Kensington Palace has revealed.
The announcement comes as Meghan, 37, and Prince Harry, 34, who got married in Windsor five months ago, arrived in Sydney on Monday ahead of a 16-day tour of Australia and New Zealand.
Kensington Palace said the couple were "delighted to be able to share this happy news with the public".
Their baby will be seventh in line to the throne.
The Queen and other senior royals were told about the pregnancy on Friday, when members of the Royal Family gathered in Windsor for Princess Eugenie's wedding.
Meghan – thought to be about 12 weeks pregnant – attended the wedding with Prince Harry, wearing a long, dark blue coat, which sparked speculation she could be expecting.
That speculation intensified when she was seen clutching two large folders in front of her stomach as she arrived in Sydney for the tour, which will also take in Fiji and Tonga.
It is their first official royal tour since their wedding, which also took place at St George's Chapel, Windsor.
Their first engagement is on Tuesday, when crowds of wellwishers are expected to congratulate the couple.
The duke and duchess follow in the footsteps of Prince Harry's parents – Prince Charles and Diana, Princess of Wales – whose first royal tour was to Australia and New Zealand.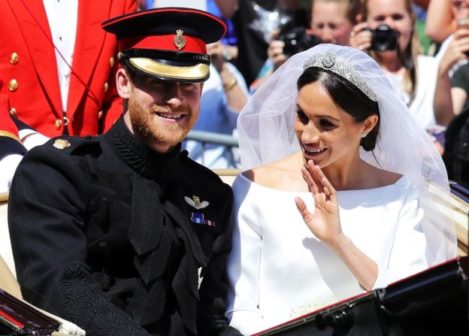 BBC royal correspondent Jonny Dymond, who is in Sydney, said of Friday's wedding: "It was there that the duke and duchess chose to inform the most senior members of the Royal Family about the duchess's condition.
"The Queen was told, the Duke of Edinburgh, the Prince of Wales, the Duke and Duchess of Cambridge, the Duchess of Cornwall – they chose that day to spread the happy news around and then recovered and relaxed, got on a plane, came over here and then put out the news for the rest of us."
They are all said to be "delighted" for the couple.
Doria Ragland, the mother of the duchess, is "very happy about this lovely news" and "looks forward to welcoming her first grandchild".
Prime Minister Theresa May has also congratulated the couple, saying: "My warmest congratulations to the Duke and Duchess of Sussex on the happy news they are expecting a baby in the spring. Wishing them all the best."
UK journalists in Australia for the royal tour were told the news by phone from London shortly after their arrival, as shown in a photograph from royal expert Emily Nash.
There are not expected to be any changes to the itinerary for their trip, despite the duchess's pregnancy. They are understood to have taken advice about the risk of the Zika virus in the Pacific Islands.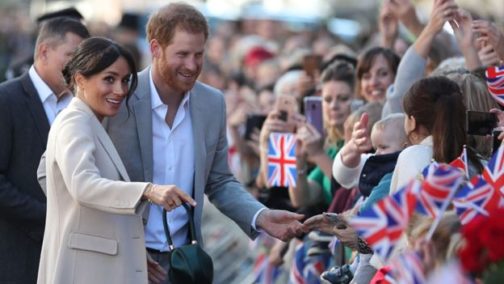 The virus is linked to severe birth defects and was declared as a global medical emergency by the World Health Organization in 2016.
The Centers for Disease Control and Prevention list Fiji and Tonga as "areas with risk of Zika infection". Ideally, pregnant women should not travel to these areas but, if they do, they should talk to their doctor first and take measures to prevent mosquito bites.
Harry and Meghan had not made a secret of their desire to have a child.
She had said, in a 2016 interview, that becoming a mother was on her "bucket list", while Harry said in their engagement interview: "You know, I think one step at a time, and hopefully we'll start a family in the near future."
And on a trip to Belfast in March, two months before their wedding, the couple was shown a range of products for newborns, including a baby bath.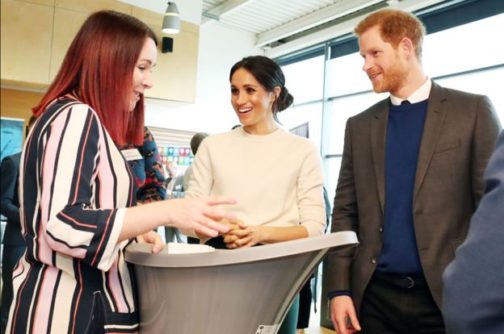 "I'm sure at some point we'll need the whole (lot)," Meghan had said at the time.
Their baby will be a first cousin of Prince George, Princess Charlotte and Prince Louis – but will not be a prince or princess themselves unless the Queen steps in ahead of the birth.
Harry and Meghan met on a blind date, arranged by a mutual friend, and got engaged 16 months later. The duchess had first found fame as an actress, playing Rachel Zane in US legal drama Suits, but gave up her career when she got married.
Congratulations have poured in for the couple from around the world. Among those expressing their delight was Archbishop of Canterbury Justin Welby, who officiated at their wedding.
BBC

Load more