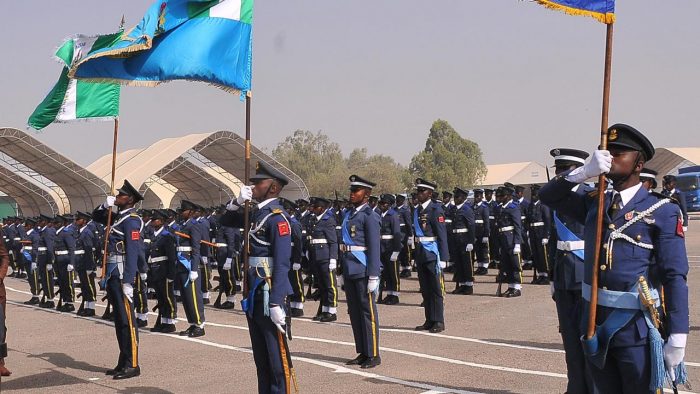 The Nigerian Air Force (NAF), has said that the success of its operations and internal security duties in Enugu State depends on the active and positive co-operation of residents of the State.
AVM Saddiq Kaita, the new Air Officer Commanding (AOC), NAF's Ground Training Command (GTC), Enugu, said this during a courtesy call to the Traditional Ruler of Nike Kingdom, Igwe Julius Nnaji, on Monday in his palace.
Kaita said that the NAF would also identify with positive developments within its host communities and states while contributing its quota to the success of the residents of the state.
"It is customary to identify with the owners of the land and its people and seek their co-operation in our operations and duties.
"Since I came, I continue to see and hear positive and good news about the entire Nike kingdom and how you have been living peacefully with our officers and men.
"We, NAF, are happy that the monarch and his cabinet members have continued to show good example to the youth, which resulted in the peace and progress in the kingdom," he said.
He expressed his gratitude for the hospitality shown to the Nigerian Air Force and its personnel `since we established the base in the kingdom'.
Earlier, the Traditional Ruler of Nike Kingdom, Igwe Julius Nnaji, commended the AOC for the professionalism and discipline being displayed by NAF personnel in Enugu.
Nnaji noted that the community had not recorded a single act of harassment from any NAF personnel all these years.
"We have been living harmoniously and cordially with the Nigerian Air Force and you people have been a good neighbour to the Nike people and by extension the people of Enugu State.
"The Nigerian Air Force and its personnel have shown us great love, even taking care of health needs of our people through routine healthcare outreaches," he said.
The monarch, however, appealed to NAF to give employment to some of its able-bodied sons and daughters to strengthen the already existing relationship and co-operation.
The monarch prayed for the success of the AOC as well as NAF's personnel nationwide as they grappled with emerging security threats in the country.
The AOC later presented a plaque to the monarch and later signed the visitors' register of the palace.