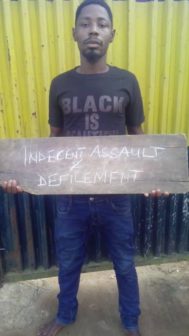 Dedeigbo Ayodeji
The Lagos State Police Command has arrested a Togolese, Dominic Samson, described as a specialist in defiling underage girls in Ejigbo, Lagos, South-West Nigeria.
On October 8, 2018, around 8.50 p.m., a complaint was made to the Divisional Police Officer in charge of Ejigbo Police Station, CSP Olabisi Okufowobi by the father of one of the children defiled and indecently assaulted by a Togo national, Dominic Samson, 31, who resides at 28 Olusesan street, Ejigbo.
The complainant stated that while he was busy fending for his family, Dominic Samson, a neighbour, was home having sex with his 15-year-old daughter.
Based on his complaint, the DPO, a female officer, with extensive training in children and women rights, interrogated the victim and she confirmed the report.
She confirmed that the suspect did not only defile her but sodomised her by having anal sexual intercourse with her.
She further revealed that she was not the only victim of the suspect's indecent sexual behaviour. She named five other victims who are within 13 to 15 years age bracket.
All the victim's except the sixth had been identified, interrogated and their statements recorded. The girls revealed that the suspect sometime bring all of them together in one room for an orgy and thereafter give them a cash reward of fifty Naira each.
The five survivors had been taken to the Mirabel Centre where the doctor's report confirmed that the victim's were indeed defiled as alleged.
The state Commissioner of Police, Imohimi Edgal admonished parents to be mindful of their children as that is the only panacea to the rising cases of sexual exploitation and abuse of children.
Load more