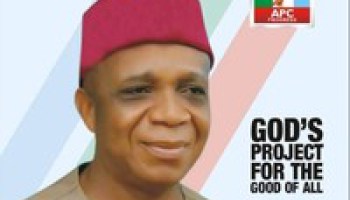 Chief Mathias Adum, the All Progressives Congress (APC), senatorial candidate for Ebonyi North in the 2019 general elections, has debunked rumours that he has been substituted with another aspirant.
Adum, who spoke in an interview with the News Agency of Nigeria (NAN) on Tuesday in Abakaliki, described the alleged substitution as "mischievous and emanating from the warped imagination of his distractors.''
He said that the senatorial primary election of Ebonyi North, was adjudged free, fair, transparent, peaceful and credible.
He listed the other aspirants as: Chief Goddy Ogbaga, Chief Simeon Alo and Mr Chris Adol-Awam.
He added that he scored the highest votes in the primary election by polling 723 votes, while his closest rival, Ogbaga had 327 votes, Adol-Awam and Alo got 269 and three votes, respectively.
"There is no iota of truth in the alleged substitution and I wish to implore our teeming supporters and fans to ignore the report as we work for ultimate victory in the election.
"Besides, I have been issued with the Independent National Electoral Commission (INEC), form for senate which I have completed and submitted along with other candidates from Ebonyi South and Ebonyi Central Districts.
"We are focused on our commitment to ensure the victory of our great party in Ebonyi at the various levels of the elections," he said.
Adum further restated that he would effectively represent the zone in the senate if elected as well as attract development projects if elected.