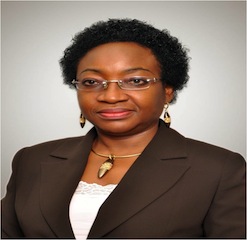 The Head of Civil Service of the Federation, Mrs Winifred Oyo-Ita, has urged civil servants to intensify their commitment to President Muhammadu Buhari's fight against corruption for effective service delivery.
Oyo-Ita, who made the call in an interview with the News Agency of Nigeria (NAN) on Tuesday in Abuja, reminded the workers that Buhari had zero tolerance for the corrupt practices and charged them to uphold it.
She said that her mission was to create in Nigeria, a world-class civil service that would be a model to other African countries.
"The anti-corruption fight of the President is trickling down to the civil service and changing their orientation about the service.
"All civil servants must key into the zero tolerance to corruption of President Buhari to improve efficiency and promote the ways of doing business in the country," she said.
Oyo-Ita noted that over the years the civil service had improved as many civil servants had integrated into the Efficient, Productive, Incorruptible and Citizen (EPIC)-centred culture of the service.
She said that with the support of Buhari and his cabinet, the Federal Civil Service Strategy and Implementation Plan (FCSSIP) had been implemented and had engendered a reformed civil service.
The head of service added that the FCSSIP was being implemented in collaboration with the private sector to ensure professionalism.
"When I was appointed as the Head of Service, I met a battered and frustrated civil service but that is changing now due to the ongoing reform.
"Civil servants are now more confident of themselves and meeting the mandate of their office as they are sitting up to what is expected of them and efficiency is improving," she said.