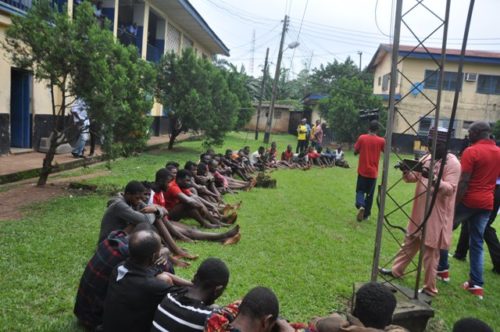 Jethro Ibileke/Benin
No fewer than 72 suspects have been arrested by the Edo State Police Command for allegedly terrorising Benin metropolis over the past few weeks.
The suspects who were paraded on Tuesday, were arrested at various points in the Benin metropolis for offences ranging from armed robbery, cultism and kidnapping.
The State Commissioner of Police, Mr Johnson Babatunde Kokumo, who paraded the suspects at the State police command headquarters, said 58 cult members linked to the killings of eight persons in different locations in the state were among those paraded.
According to the CP, "There was heightened criminal activity viz cultism by rival cult groups: the Black Axe, Eiye, Black Mafians, Vikings within the period 11th and 14th October, 2018, which led to death of eight persons.
"The police quickly moved in and restored normalcy. 39 arms, 54 cartridges, three battle axes and five fake drinks were recovered from the 72 suspects.
"On October 10, this year, the Command arrested two kidnappers at Five Junction for allegedly kidnapping a 36-year-old lady at Ugbowo area of Benin city."
Kokomu gave break down of the suspects to include one Sampson Omorodion, 34, who was arrested for allegedly killing his younger brother, named Imuetiyan Omorodion aged 27, by stabbing him twice on the neck with a knife after an argument between them.
The Police boss reiterated the need for citizens to be vigilant at all times and to report any suspicious activity to the police for prompt attention, assuring that the state was unsafe for criminals.
One of the suspected cultists, Azuka Ike, who confessed to being a member of Eiye Confratenity, said he joined the cult few years ago and had remained a member, but that he was arrested in Delta State when he fled Edo State, following the renewed fracas with rival cult group.
Narrating his ordeal in the hands of the suspected robbers, Precious Okpako, a cab driver, who was rescued by the quick response of the Police, commended the Force for saving him from the armed robbers, who posed as customers.
"I was hired and my car taken from me at gun point and was locked in the booth of my car but I managed to escape and raise an alarm and the police responded to save me," he said.