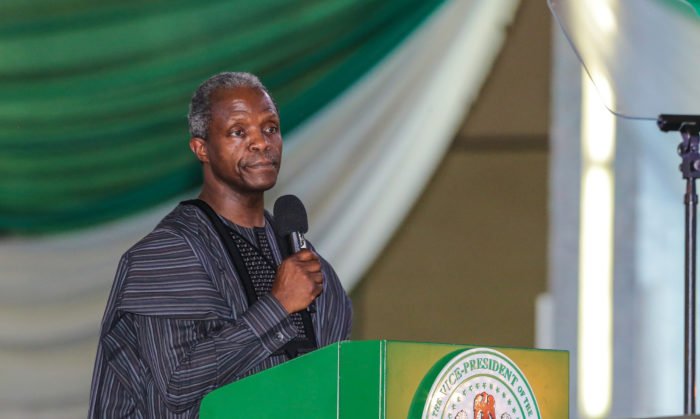 The Vice President, Prof. Yemi Osinbajo, will attend the 2018 edition of the International Sheroes Forum and the Inauguration of the Jewel Starfish Foundation scheduled for Monrovia, Liberia on Oct. 17.
The International Sheroes Forum is a knowledge-sharing and networking event that brings together leaders of diverse achievements from all over the world.
It is aimed at bringing new perspectives to key issues facing women around the world and particularly in Africa.
Laolu Akande, Senior Special Assistant to the President on Media and Publicity Office of the Vice President, in a statement on Tuesday in Abuja, said that Osinbajo would share his thoughts on a variety of issues at the forum.
He said that the issues would range from leadership to women empowerment, especially the possibilities for the economic advancement of women in Africa.
Akande stated that Osinbajo would participate in the formal launch of the Jewel Starfish Foundation.
"It is an organisation founded by the Vice President of Liberia, Jewel Howard Taylor, to provide educational opportunities to women and empower young women with capacity building tools that would enable them to achieve sustainable means of livelihood.
"It also aims to inspire and provide mentoring for women, among other numerous objectives.
"Other distinguished personalities expected at the event include former Liberian President, Madam Ellen Johnson-Sirleaf, who would be the keynote speaker; former President of Malawi, Dr Joyce Banda; the former Vice President of Zimbabwe, Dr Joyce Mujuru, among other personalities.
"Only recently at the inauguration of the Oxford Board of African Studies in the United Kingdom, Osinbajo emphasised the importance of human capital development," he said.
He noted that Osinbajo, who spoke on the topic: "The Challenges of Human Development in 21st century Africa", concluded that "with abundant innovative ideas and political will, development in Africa is near.
The senior special assistant said that the vice president, who left Nigeria on Tuesday for Monrovia, would be back in Abuja on Oct. 17.