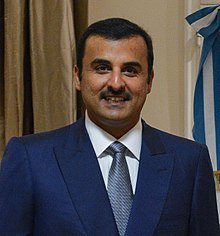 Qatar is working on plans to achieve self-sufficiency in goods and products, as well as to develop natural resources, state-run Qatar News Agency (QNA) reported on Tuesday.
The Minister of Municipality and Environment, Mohammed bin Abdullah al Rumaihi, made the remark on the occasion of the World Food Day.
The UN fixed Oct. 16 as World Food Day to remind nations on the need to make more efforts to feed citizens and to educate countries on many way to boost food production.
The minister said "Qatar's celebration of the World Food Day is a confirmation of the importance of food and the need to provide it to everyone living on its land."
Al Rumaihi added that Qatar had adopted plans and strategies to increase the production of agricultural commodities in the country and that the sector was able to make a great leap to cover the requirements of the local market and raise self-sufficiency in plants, animals and fish production.
Saudi Arabia, the United Arab Emirates, Bahrain and Egypt cut ties with Qatar on June 5, 2017 over unsubstantiated claims that it backed extremism and fostered relations with Iran.
Doha, however, denied the allegations.
Load more