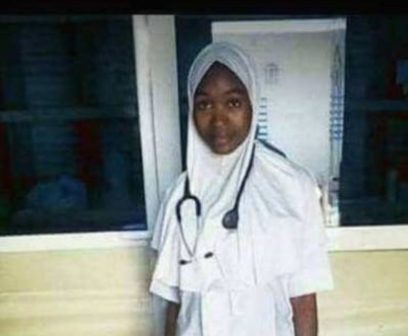 The parents of Hauwa Liman, the recently killed International Committee of Red Cross, ICRC aid worker, have reacted to her unconfirmed execution by the dread Boko Haram sect.
Liman was abducted in Rann in March by the Boko Haram with another aid worker.
The parents in a emotional laden voice said their daughter is still alive and demand for the release of her corpse. Both parents who spoke to TVC News on Tuesday, demand for the release of her corps as a proof of her death.
Hauwa's mother who spoke in Hausa said: "They are looking for ransom and the president promised for their release and the time given was too short. In my strong believe I am very sure my daughter is alive somewhere, they should release my daughter to me please.
Meanwhile, a Nigerian lady, Hauwa Liman, on Tuesday, decried the usage of her photos in place of the aid worker, who was executed by Boko Haram.
Hauwa Mohammed Liman, who worked with the International Committee of the Red Cross was killed by the terrorist group after the expiration of a deadline, they had given the Federal Government.
Since the news of the execution went viral, lots of persons and online media platforms had been talking about the deceased and sharing condolence messages.