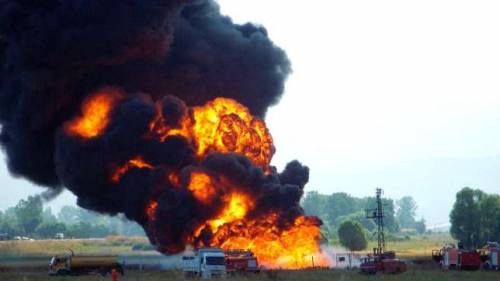 The Nigerian Senate on Wednesday ordered the petroleum depots in Abia State to begin the immediate repairs of oil pipelines that have leakages after a pipeline explosion killed over 150 people in the state.
The resolution came as part of the Senate's debate on the recent pipeline explosion in Abia State, that led to the death of over 150 people.
The Motion, raised by Senator Theodore Orji, stated that the explosion and subsequent loss of lives was due to the negligence of NNPC staff, who failed to address the pipeline leakages in the area.
"Scooping oil by villagers should not be allowed. From the incident, it is clear that there were leakages in the pipelines but those in charge ignored these reports," said Senator Victor Umeh.
"It's a pure case of negligence," said Senator Mao Ohuabunwa, "We should set up an ad-hoc committee to look into this and send a delegation to commiserate with the people of Osisioma. They do not just need relief material but medicament."
Speaking on the Motion, Senate President, Dr. Abubakar Bukola Saraki, said: "We need to show that lives do matter in this country. From the presentations from those who have contributed, this is just clear negligence on the part of those who are responsible and could have prevented the loss of lives of the 150 people who have died.
"The committees should treat this matter with the seriousness that it deserves. The Committee on Petroleum Resources and Police Affairs should perform a proper investigation and make recommendations to the Senate in 2-weeks. We must also find out what the federal government is doing about this issue."
The Senate then resolved to  order NEMA to send relief materials to the affected communities; order the oil depots to commence immediate repairs of the leakages; direct the Committee on Petroleum Resources Downstream and Police Affairs to conduct a proper investigation and make recommendations; observe a minute silence in honour of the deceased and direct that the Senate should send a delegation to the Abia State Government and the affected community.