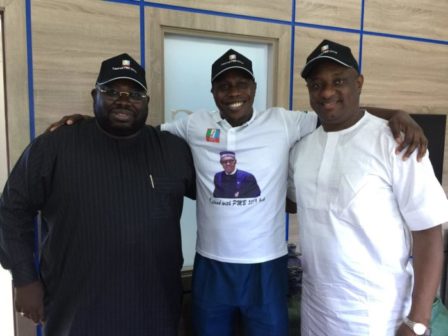 While former President Olusegun Obasanjo has endorsed Atiku Abubakar for presidency, one of his sons, Olujonwo is rooting for incumbent President Muhammadu Buhari.
Olujonwo was at the campaign headquarters of President Buhari on Wednesday in Abuja, the chief spokesman of the campaign lawyer and senior advocate Festus Keyamo reported.
Keyamo tweeted a photograph showing the Obasanjo scion gleefully wearing Buhari's campaign shirt, with the message: "I stand with PMB 2019"
Here is Keyamo's tweet:
Festus Keyamo, SAN
✔
@fkeyamo
Obasanjo Joins Buhari's Campaign Team: From Left – Alhaji Nasiru Danu (The Dan Amarna of Dutse & Director of Logistics, PMB Campaign Organisation), Olujonwo Obansanjo (son of OBJ) and my humble self as we officially received OBJ's son at d PMB Campaign Headquarters today in Abuja pic.twitter.com/orzI582Ezk
Olujonwo is the son for Taiwo Obasanjo. He got married in Lagos last year to Tutu Adebutu, daughter of lotto magnate, Kessington Adebutu in an elaborate ceremony.

Load more