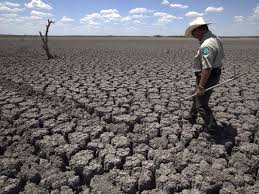 The Office of National Water Resources (ONWR) of Thailand on Friday raised concerns on emerging drought crisis in the country's northeast region.
A drought is a period of below-average precipitation in a given region, resulting in prolonged shortages in the water supply, whether atmospheric, surface water or ground water.
Nakhon Ratchasima Provincial Governor Wichian Chantharanothai said that the North-Eastern province's 32 districts have been declared drought-hit areas.
The governor added that the prospect of acute water shortages affect the province as a whole and many other parts of the country.
"Nakhon Ratchasima, Maha Srakham and Khon Kaen in the Northeast, Suphan Buri and Uthai Thani in the Central Plains, and Lampang and Chiang Mai in the North are on alert.
"Even the officials found many dams do not contain enough water to irrigate farmland in the coming cool season,'' Wichian said.
"The situation is most severe in Nakhon Ratchasima, also known as Korat, where 700,000 rai (112,000 hectares) of farmland, mostly paddy, have already been damaged due to a lack of rainfall.
"So far, 14 crop-growing districts are listed for immediate help.
"Officials are considering paying rice farmers 1,100 baht (33.72 dollars) per rai and farmers of other crops 1,400 baht (42.92 dollars) per rai to compensate them for their losses,'' Wichian said.
The water scarcity has been offset so far by the province's five large reservoirs including Lam Ta Khlong dam, with water storage currently at 80 per cent of capacity.
However, with the country about to enter the dry season, with less or no water flowing into the reservoirs, measures will be implemented to ensure there is enough water to go round.
The ONWR echoed Wichian's statement, saying Northeast faces the greatest risk, as Ubonrat Dam, one of the major dams of the region, is only 11 per cent full.
It said the Northeast has 21 of the country's 36 dams that are at less than 30 per cent of their available capacity.
Moreover, the Meteorological Department and Hydro and Agro Informatics Institute (HAII) also caution that these dams only have some 30 days to collect water from the seasonal rainfall until the rainy season resumes in May 2019.
It has also warned that the development of El Nino in the Pacific Ocean in the beginning of 2019 will contribute to an even drier than normal climate in Southeast Asia and Western Pacific.
"This will further intensify the severity of the coming drought,'' the department noted.