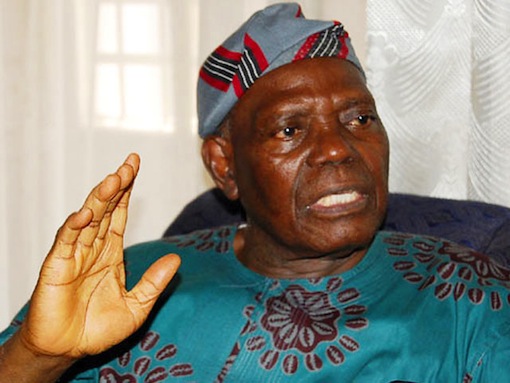 Former Interim National Chairman of the All Progressives Congress, Chief Bisi Akande, has carpeted successive military governments that ruled Nigeria for 29 years since independence, saying they created states and local governments by fiat for selfish reasons rather than through any scientific political reasoning.
This, according to him, has necessitated a restructuring of the country.
He lamented that the military might have inequitably created more local governments per population per state in the North than in the South, thereby giving the North an unfair advantage in revenue allocation from the national treasury.
Akande, who is also a former governor of Osun State, made the assertion in a paper on "Devolution of Powers and National Restructuring" he delivered at the weekend at the APC-USA Second Annual Convention in Washington DC, United States of America where he was Special Guest of Honour.
He therefore called for restructuring, which he described as "equitable rearrangement and redistribution of the existing states and local governments per population within the various ethnic nationalities".
Appropriate amendments to the country's constitution, according to him, will be required to accommodate the various rearrangements and redistributions.
According to TVC, the former APC chairman, however, admitted it would be politically unwise to define the word equitable in such a way that it would be easy to convince those enjoying the unfair advantage at present to surrender such.
He said restructuring was a Herculean task for all Nigerians compared to the political change of power for which the APC was put together.
Akande said: "The North is a largely Hausa-speaking people traditionally mix-bred and assimilated with and governed by minority Fulani rulers through Islamic emirate system since two centuries ago. The North has been amalgamated with the South in-law and in fact since a century ago. And, presumably, the Fulani has been perceived to be manipulating the North to rule Nigeria since independence.
"Even if one does not like the minority Fulani rulers of the North for being hegemonic in characteristics, can one separate them from the original majority Hausa-speaking people of the same North? Unless one was ready for another civil war, could one ostracise the whole North in the political considerations of the country."
He said it was within that context that some of them who were not ready to wait for another civil war to effect a geo-political restructuring of the country decided to go ahead with the APC arrangement, "while our opponents are left behind to assume a loud coarse noise on mere sloganeering-restructuring- without any clear definition or a peaceful workable strategy."
The former APC chairman also said constitutional amendments or not, Nigerians have begun to see themselves as belonging to geo-political zones-North-western, North-eastern, North-central, South-western, South-eastern and South-southern zones-.
He said the South-west, on its own, had moved further to create a Development Agenda Commission for Western Nigeria, DAWN Commission, to conduct research to generate pieces of advisory information for the benefit of the each of the South-western state governments on integrated development programmes.
According to him, as a first step, the people of these South-western states are trying to key into the APC to back up the possibility of their governments to speak with one political voice, using one manifesto under one political party.
He recommended this initiative to other geo-political zones, saying it is an experiment worthy of encouragement and emulation for the strengthening of a federal political attitude towards physical and social development within each zone.

Load more