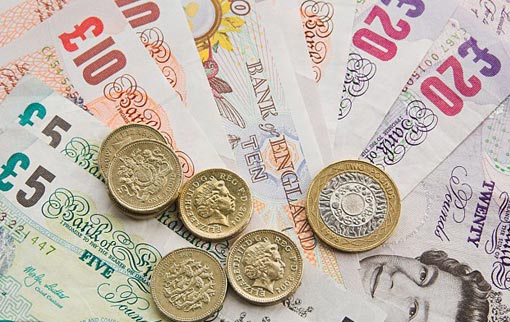 The euro and the British pound managed to hold steady against the dollar on Monday as investors cautiously awaited developments around Brexit as well as Italy's budget plan which drew heavy criticism from the European Union.
The dollar was also broadly unchanged against its major rivals.
Tensions with Saudi Arabia and the West, trade frictions and uncertainly about the global growth outlook kept most currency pairs stuck in tight ranges.
An index measuring the greenback's value against its major peers was flat at 95.67, having hit a of high of 96.09 on Friday.
Both the euro and sterling remained sensitive to news around Brexit and a controversial Italian budget proposal.
"The movement of the euro and British pound may become increasingly sensitive to geopolitical factors such as Italy's budget issue and Brexit talk gaining more headline exposure," said Jonathen Chan, market analyst at CMC Markets in a note.
The European Commission on Thursday sent Rome a letter calling a draft budget an "unprecedented" breach of EU fiscal rules.
Italy now has until Monday to explain to the Commission its breach of rules and faces the rejection of its budget, which may eventually lead to sanctions.
The euro traded flat versus the greenback on Monday, changing hands at $1.1514, having gained 0.5 per cent versus the dollar on Friday.
"The ECB is likely to take a stern tone on Italy for threatening the unity of the single market.
The odds have increased for EUR/USD to break into a lower 1.10 to 1.15 range for the rest of the year, in our view," said Philip Wee, rates strategist at DBS in a note.
Sterling had also rallied on Friday after Bloomberg News reported that British Prime Minister Theresa May is ready to drop a key Brexit demand in order to make a deal for Britain to leave the European Union (EU).
UK Brexit minister Dominic Raab said on Sunday that Britain is open-minded about extending the post-Brexit transition period if it means the European Union drops its proposals for the so-called Irish backstop.
Sterling was virtually unchanged at $1.3074, having hit an intra-day low of 1.3009 on Friday.
The dollar was modestly higher versus the Japanese yen after briefly trading down on Monday. The yen fetched 112.58, off a one-month high of 111.61 hit on Oct. 15.
The yen, a safe-haven currency sought during times of global uncertainty and markets turmoil, had benefited from rising risk around Brexit, the Italy budget plan and trade tensions.
Investors had also been rattled by Saudi Arabia's deteriorating relations with foreign governments following the disappearance of journalist Jamal Khashoggi.
Stocks in Asia wobbled early on but steadied after markets in China rallied on hopes Beijing will ramp up stimulus measures to prop up growth amid the Sino-U.S. trade fight.
The outlook for global growth in 2019 has dimmed for the first time, according to Reuters polls of economists who cautioned that the U.S.-China trade war and tightening financial conditions would trigger the next downturn.
For the dollar, a hawkish Federal Reserve and signs of continued strength in the U.S. economy remain key drivers.
"Markets will be closely watching the release of the U.S. advance GDP number on Friday for more clarity on the direction of the U.S. dollar," said Sim Moh Siong, currency strategist at Bank of Singapore.
The Canadian dollar was changing hands at 1.31 on its U.S. counterpart, within striking distance of a 5-week low of 1.3132 hit on Friday on the back of weaker inflation and retail sales.
Yet, market participants expect the Bank of Canada (BoC) to raise interest rates on Oct. 24.
The central bank has raised rates four times since July 2017 and has said it wants to get on top of bubbling inflation pressures.
The Australian dollar, often considered a barometer for global risk appetite, traded at $0.7109, down 0.17 per cent, though off an early low of $0.7077 amid hopes of more stimulus in China – Australia's biggest trading partner.

Load more