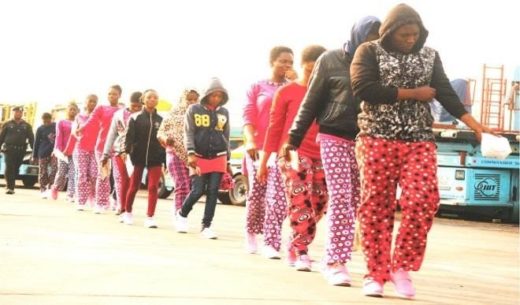 Some Libya returnees, under the aegis of Association of Edo Libya Returnee Farmers, on Tuesday appealed to the government to support their farming projects.
The returnees, numbering 25, embarked on cash crop farming, on arrival in the country after their rescue from Libya by the Federal Government.
Mr Festus Okosun, leader of the team, told NAN in Benin, that the group decided to stand out from the other returnees by going into farming.
He said that the group cultivated more than 12 hectares at Urighon village, in Uhunmwode Local Government Area.
Okunsun attributed the successes recorded by the group so far, to the contributions of Pastor T.B. Joshua, the Oba of Benin, Ewuare 11 and International Organisation for Migration (IOM).
He also commended the Orakue of Benin, Chief Osabuohien Omokaro, for providing them the land under a `gentleman's' agreement.
According to him: "We want to contribute our quota to the society through the development of agriculture.
"We want it in a large scale in such a way we could provide food on the table of Nigerians.
"But we don't have the financial well withal to expand the farm and it is in view of this we are making this appeal for support and assistance in every way."
The group appealed for supply of produce processing machines, fertilisers and other materials that could enhance production.
Meanwhile, Mr Solomon Okoduwa, Senior Special Assistant to Governor Godwin Obaseki on Anti-Human Trafficking Issues, said he had visited the farm.
Okoduwa told NAN that he was amazed by what the returnees were doing.
"I have seen what they are doing and I appreciate it.
"My duty now is to go back to inform the governor and see how the government can also support them.
"Obviously, they need support, because these set of returnees have shown that they could make it here in the state", he said.