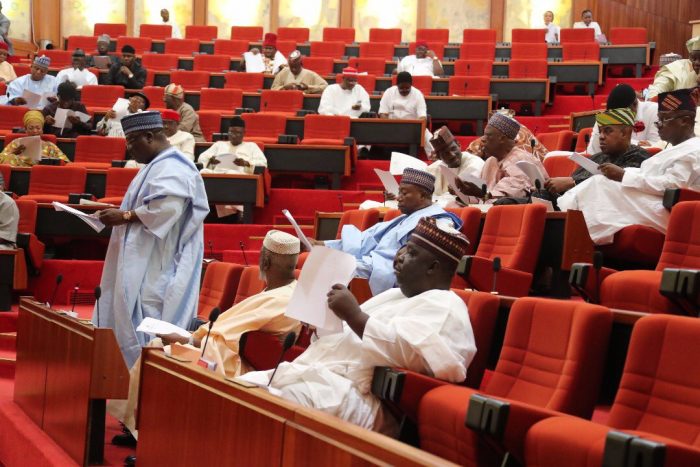 By Kazeem Ugbodaga
The Nigerian Senate on Wednesday ordered relevant security agencies to immediately begin investigation into mass killing of over 55 people at Kasuwan Magani and other areas in Kaduna State and bring the perpetrators to justice.
At its Plenary session, the senate resolved also resolved to pay a special condolence visit to the Governor and people of Kaduna State, particularly Kasuwan Magani and other affected areas.
The lawmakers further resolved to make an urgent call to the Kaduna State Government and the Federal Government and quicken the process of the release of the paramount ruler, Maiwada Galadima, as well as observed a minute silence for the repose of souls lost in the crisis.
The senators urged NEMA to step in and assist those who had been affected, especially those who had to go out on a daily basis to survive, while they commended security agencies for the prompt manner in which they responded to the matter without allowing the situation to get out of hand.
Earler, Senator Sulaiman Hunkuyi cited Orders 42 & 52 and brought the attention of the Senate to killings in Kaduna State, saying that "These killings are inhuman, unmindful and unnecessary. There are so many hoodlums carrying out these acts and it needs to be tackled."
"There is a need to set up committees on this matter. We Senators cannot close our eyes to this," Senator Ibrahim Kurfi added.
Also Senator Shehu Sani said "We are deeply concerned. There is a need for community and religious leaders to come together and discuss solutions."
According to Senator Danjuma Laah, "life is given by God and there is no reason why it should be taken by man. We cannot continue to just observe this, something must be done."
"Our security agencies must be alive to their responsibilities, " Senator Ahmad Abubakar chipped in.
More so, Senator Philip Gyunka lamented that "we are not applying our intelligence to detect the roots of these issues. We keep hearing of weapons being imported, who are those importing those weapons and why are they being imported? The security agencies should be invited to answer these questions."
.

Load more