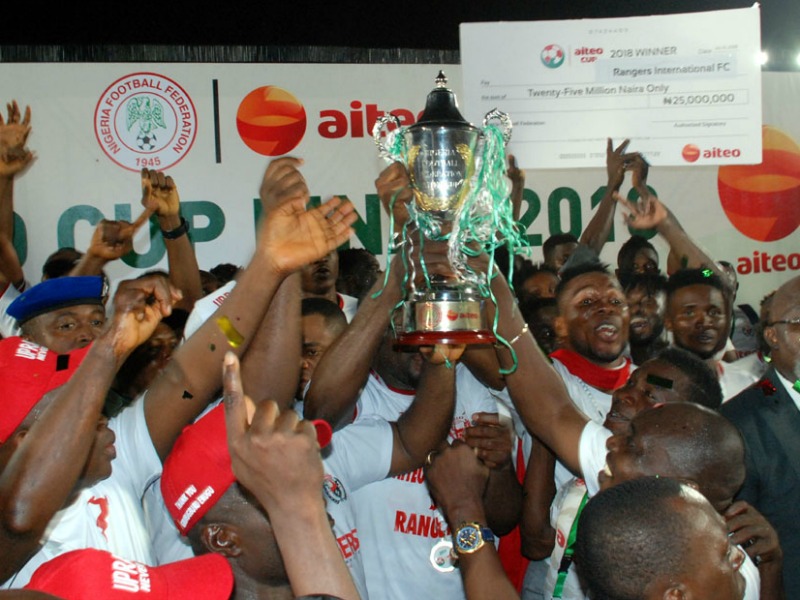 Gov. David Umahi of Ebonyi, and other soccer fans in the state on Thursday congratulated Enugu Rangers FC for winning the 2018 AITEO Cup (formerly known as Challenge Cup).
Umahi, who spoke through his Chief Press Secretary, Mr Emmanuel Uzor, said the victory, which he described as lovely, was for all Igbo citizens.
The governor, who is the Chairman, South-East Governor's Forum, noted that the cancelling of a three-goal deficit by Rangers had further rejuvenated the fighting spirit of the Igbos.
Rangers defeated Kano Pillars FC, 4-2 on penalties after cancelling Pillars 3-0 lead in the final played at the Stephen Keshi Stadium, Asaba on Wednesday.
The victory, which is Rangers sixth triumph in the 73-year-old competition, saw the club carting away the N25 million prize.
Ranger, which last won the cup in 1983, will represent the country in the 2019 CAF Confederation Cup final.
Umahi said: "Such fighting spirit has propelled the Igbos to excel in various endeavours.
"The victory testifies that they have bounced back to their rightful place in the nation's polity," he said.
Umahi urged the team not to be complacent but approach future challenges, especially in the CAF confederation cup, with utmost dedication, to make the zone proud.
"I, however, promise Ebonyi soccer fans that such news would soon emanate from the state as its teams would be competing once again in national football competitions.
"Our robust grassroots sport development policies would ensure that only talented and professionally-minded footballers are recruited into the teams."
Mr Charles Akpuenika, the Commissioner for Sports and Youth Development, also commended Rangers for the victory and urged their fans to continuously offer unwavering support to the club.
"Rangers is an institution in the Igbo race and this victory, coming after a long time, has brought tremendous joy and hope to the entire race.
"The disbandment of the two Ebonyi-owned football teams by the preceding government made fans lose touch of such fanfare but we assure that the teams will soon bounce back,.
This is courtesy of the sports-loving Gov. David Umahi," he said.
James Nwaneri, A soccer historian and Rangers fan, said his joy knew no bounds with the victory having witnessed all the botched attempts by the team to win the cup since 1983.
"The 1990 final against the disbanded Stationery Stores of Lagos was most painful, because Rangers dominated the match but lost on penalty kicks.
Mrs Stella Ngwu, a businesswoman and an Enugu indigene, noted that the victory was a further confirmation of the luck attracted to the team by the Chief Ifeanyi Ugwuanyi-led administration.
"Under Ugwuanyi administration, Rangers won the Nigerian premier league in 2016 after its last triumph in 1984 and won the AITEO cup in 2018,"she said.

Load more