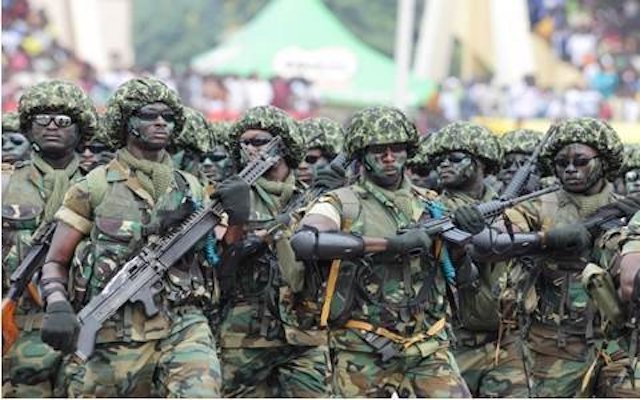 The Military has launched "Operation 777'' to restructure ongoing operations across the country designed to checkmate criminal activities, including the Boko Haram insurgency, armed banditry, kidnapping, militancy and crude oil theft.
Briefing newsmen on the new operation on Thursday at the Defence Headquarters (DHQ) in Abuja, Brig.-Gen. John Agim, the Acting Director Defence Information (DDI), said operation 777 began on October 10.
Some of the ongoing operations meant to be restructured by operation 777 include "Whirle Punch," to fight banditry and armed robbery on the Abuja-Kaduna road, as well as Birnin Gwari area of Kaduna state.
The others are "Delta Safe'' to tackle oil theft, bunkering and pipeline vandalism in the Niger Delta, and "Awatse'' designed to check pipeline vandalism in Lagos and Ogun states.
Among them also are "Operations Safe Haven in Plateau, Bauchi and part of Kaduna state, "Sharan Daji'' which was set up to fight armed banditry in the North West and "Clearance'' to fight kidnapping in Kogi.
In Benue, Nasarawa and Taraba States is "Operation Whirle Stroke", fighting herdsmen/farmers clashes and banditry.
According to the DDI, operation 777 is running concurrently with the existing operations and designed to consolidate on their achievements.
"The operation is also geared toward enhancing a conducive and stable environment for socio-economic activities and safety of Nigerians, as well as preventing bandits and outlaws from escaping to other peaceful areas.
"Consequently, the operation is expected to raise the confidence of the public in the affected states, particularly the IDPs to return back to their homes,'' Agim said.
He said since operation 777 commenced two weeks ago, a lot of achievement had been recorded, including the recovery of large cache of arms, arrest of suspects, while several others were neutralized.
Agim listed the recovered weapons as five AK47 rifles, 20 bow and arrow, 113 of 7.62mm live ammunition, 20 live cartridges and four rifle magazines.
He put the number of neutralized suspects as 35, while 98 bandits/criminals were arrested since the operation commenced, adding that the suspects had been handed over to the police for prosecution.
He added that 419 rustled cattle, 405 sheep and 101 goats were also recovered and handed over to various committees established, to return them to rightful owners.
The DDI said that within the period, the camp of a Benue "notorious criminal and cult leader, Gana'' had been located, while 15 of his members, including his wife were neutralized.
"Gana managed to escape, but our troops are on his trail. Sequel to this, many of the IDPs have started returning home.
"The Chairman of Logo Local Government Area of Benue confirmed that 27,000 out of the 34,000 IDPs in Anyiin IDP camp have returned home,'' Agim said.
He said that in the period under review when operation 777 began, 398 metric tonnes of stolen crude oil, 67,000 liters of refined AGO were recovered in the Niger Delta region.
Agim also said that 126 reservoirs, 34 illegal refineries, 27 wooden boats and "quantity 101 of100 liters of drums of PMS'' were recovered during the period.
"Regrettably, during these operations, the military suffered some casualties. Two soldiers were killed in action, two wounded in action.
"Equally, two soldiers were missing in action, while one AK47 rifle is missing in action,'' he said.
Agim used the opportunity to appeal to Nigerians to cooperate with the military and other security agencies in the efforts to address current challenges in the country.
Load more