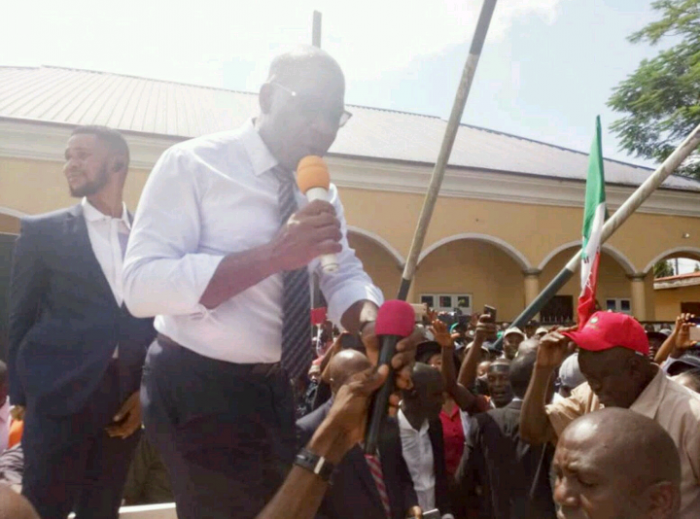 Jethro Ibileke/Benin
Edo State Governor, Mr. Godwin Obaseki, has assured workers in the State that his administration will pay the new minimum wage for workers in the country.
Obaseki gave the assurance while addressing members of the organised labour who were on a protest march to the Government House, in Benin City on Tuesday, to sensitise the people on the planned labour strike over the Federal Government's alleged refusal to agree on N30,000 minimum wage for workers across the country.
The Governor in his address to the members of the labour unions, noted that his administration is already paying N25,000 while other States are paying N18,000.
He informed the protesters that he will be in Abuja to attend a meeting where Governors are to deliberate on the minimum wage.
"We believe in labour and our government is labour-friendly that is why we have maintained a harmonious relationship with labour in the state and have not had a single strike in two years.
"I want to assure you that whatever we agree in Abuja today (Tuesday), Edo State Government will be the first to implement it," he assured.
Obaseki who urged the protesters to trust in the present administration led by President Muhammadu Buhari because of its commitment to reduce the suffering of workers in the country, said; "the President Muhammadu Buhari I know will never support that Nigerian workers should suffer because he is committed to the welfare of the common man."
Earlier in his speech, the Chairman of Nigerian Labour Congress (NLC) Edo State Chapter, Comrade Emmanuel Ademokun, commended the Governor for creating a friendly atmosphere that has ensured a harmonious relationship between the government and organised labour in the State.

Load more