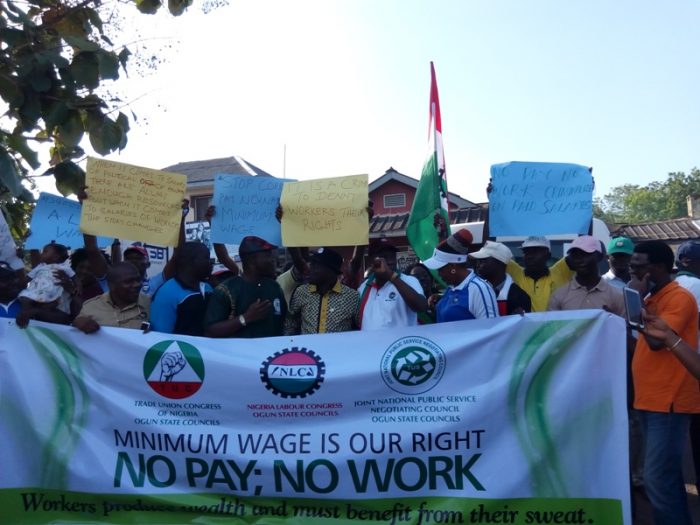 Adejoke Adeleye, Abeokuta
The President of the Joint Public Negotiating Council Comrade, Abdulrafiu Adeniji on Tuesday led a protest over the federal government's directives of "no work, no pay" rule.
The President, while speaking to journalists at the Nigeria Union of Journalists (NUJ) building in Abeokuta, Ogun State, said he had been directed to come to Ogun State to lead the workers on a protest of "no pay no work" because a responsible government who truly wanted the comfort of the people would not say 'no work, no pay' over a penny of N30,000 per month.
"We are here today to make a statement to Nigerian and the Government that the populace have being denied of work force in Nigeria. We expected minimum wage so we are here as a mark of solidarity for suffering working class and establishing the stuff that long enough the government of the country.
"We have been deprived of our rights not only the worker but the entire populace because we are aware of the amount politicians receive per month, it is only in Nigeria that workers receive lowest minimum wage salary, which is not even regular," he said.
"We need to sensitise our members and the entire workforce both in the private, the public and those people who are self-employed to know their right, they stand for it and fight for their right and the rights of the Nigerian workers," he said.
He added that "We must tell the public why the new minimum wage must be increased, not only paid but to be expended upon.
In a spot, Comrade Olubunmi Fabiyi, the State Chairman of Trade Union Congress ascribed that Nigerian workers are the least paid in the world
Further more, Comrade Akeem Ambali, the State Chairman, Ogun NLC described the N30,000 minimum wage as "chicken change" in the pocket of the Nigeria government.

Load more