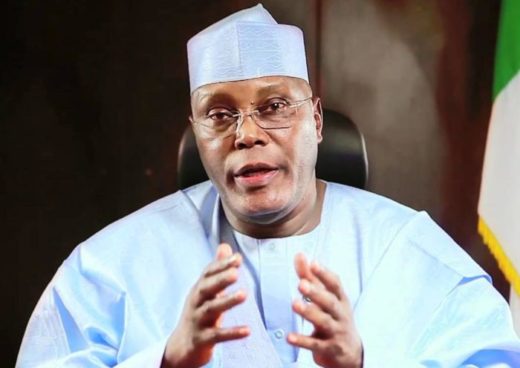 By Rupert Ojenuwa
I read with utter disgust the many outpourings of Atiku Abubakar's critics to the effect that he is corrupt simply because of his inability to travel to America and I am sure that every well-meaning Nigerian who has the ability to reason beyond elementary copy and paste thinking pattern will equally feel disgusted. Some even went as far as saying that Atiku, through his company INTELS will continue to siphon Nigeria's money when he becomes president. These people are sufferers of either 'Hate Induced Fever' or 'Advanced Ignorance Disorder'. Well, this piece is more for the later bunch that the former because anybody driven by hate can't be remedied or cured.
Though Atiku Abubakar has never been pronounced corrupt by any court of competent jurisdiction, some helpless individuals in a bid to display their ignorance have continued to clutch on the straw that he is unable to travel to America as a basis or a proof of Atiku's corruption. If that is the case, then the countless people from across the globe who have been denied America visa should qualify as corrupt because America, like any other sovereign nation reserves the right to decide who comes in to it. But I know that some people will argue that a VIP of Atiku's standing shouldn't be denied entry. Really? There are scores of world leaders who have been denied entry into America for several reasons which in some cases includes suspicion. One of such renowned world leader was Prime Minister Modi who was denied visa for years based on suspicion on his role in an anti-muslim riot. Palestinian Liberation Organization leader Yasser Arafat was barred from attending the United Nations General Assembly based on suspicion.
To bring the argument closer home, a Nigerian, very recently was denied entry into the United States because of the infamous list released by the Minister of Information and Culture, Lai Mohammed. Lai had released a list of prominent Nigerians he termed corrupt. This list contained people who hadn't been tried and convicted. These people were largely on the wrong side of Lai Mohammed's personal opinion, but he still released it and being a government spokesman, the United States denied Visa on what may I may term 'suspicion'. Isn't it possible that AtikuAbubakar was just a victim of suspicion because of the many media trials that he had to go through largely because of his patriotic deeds that has been in public domain.
In Punch publication of November, 2016 written by Bayo Akinloye, the United States Department of Justice had denied having any record that indicates that Nigeria's former Vice President Atiku Abubakar has any pending lawsuit in the US.
In fact, it defies any logic that Atiku is denied entry into the United States because he has a case to answer. In international diplomacy, we know that if the US has a case against AtikuAbubakar or if he has a pending case the easiest thing to do is to send an extradition order? Or in the alternative, grant Atiku entry into America soil so as to apprehend him. Anybody using lack of entry to the US as a basis for corruption continues to do that at a risk of being seen as an ignoramus. We understand that it is just to discredit him but shouldn't they know when a narrative makes no more meaning and is becoming counter-productive?
Since the reason for Atiku's inability to enter the US isn't corruption related, couldn't it be that Atiku has been denied entry because of his reputation of attracting Foreign Direct Investment, FDI? Couldn't it be that America is trying to safeguard itself from capital flight?Nigerians will recollect that one of the campaign hinges of President Trump was 'America First' which has led him to make massive tax cut to encourage return of US businesses. Nigerians will also recall that before Trump's ascendancy into the highest political office in the world, Americans have been lamenting loss of jobs to Africans with Nigerians in particular. Going by that Atiku Abubakar is a culprit, having attracted several businesses into Nigeria as Vice President from 1999-2007, and after leaving office he still will not relent. He continues to use his extensive network to attract businesses that has helped put food on the tables of several thousands of Nigerians and couldn't that be a possibility that America is afraid of capital flight from its nation to Nigeria? Instead of thinking in that line, some second fiddle Nigerians keep concluding that going to America should be the only validator of a would be Nigerian president. Rest assure that Atiku will visit America but Atiku wants more than a visit to America.
Atiku wants a Nigeria that fully takes her place in the committee of nations. Atiku wants a Nigeria that becomes the world's headquarters for prosperity, a nation where her hardworking youths are not termed lazy because of policy somersaults that continues to encourage job losses. Atiku wants a Nigeria educational system where her graduates are not employment driven but entrepreneurial, creating jobs. Atiku wants a Nigeria where her citizens can access quality healthcare. He further wants a situation where there is no capital flight through health challenges. He wants critical health interventions to be carried out in Nigeria. With Atiku's presidency, Nigeria can bid infant mortality a fare well. Even as a private Nigerian, he has an existing MoU with a Saudi Hospital where a world class hospital can be built in Nigeria. This will further make Nigeria's ability to respond to critical health issues more robust. Many Nigerian doctors who have been trained theoretically can have firsthand practical experience by understudying advanced practitioners. If as a private citizen, he can do this, how much more as President?
The question is can Atiku do all these and the answer is an emphatic YES. Going by his experience, his impact in the private sector, his ability to transform his own life from a farmer's boy from Jada to a national entrepreneurial ICON putting foods on the tables of more than two hundred and fifty thousand Nigerians by way of indirect employment, he can do much more as a President and Commander In Chief of the Armed Forces. Anyone who can't help himself can't help another Nigeria is in dire straits and at such a time, we need thinking out of the box and an Atiku is laced with such a brain. After Atiku's presidency which will restore Nigeria as the giant of Africa, an American aspiring president would need a visit to Nigeria as part of validation.
•Rupert Ojenuwa can be reached via [email protected] or @pasrup

Load more