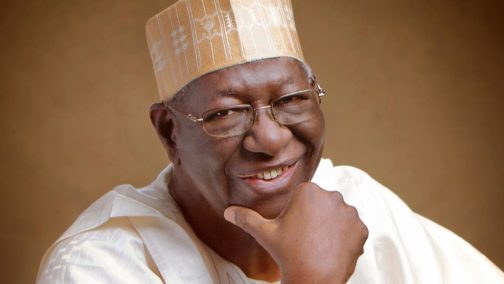 By Louis Odion
Our first encounter in 2000 was simply apocalyptic. The old cop was at his bewitching best – marshalling provincial tactics of intimidation and seduction.
An editor with ThisDay then, I was in Benin City for the weekend and happened to have been with then Governor Lucky Igbinedion at the White House that evening, before the then acclaimed "strongman of Edo politics" appeared like an apparition.
Nothing, in my wildest imagination, had prepared me for the coming volcanic eruption, while chatting with the Edo State governor over wine. As the day wore on, folks – a few familiar faces and the others unknown – began to trickle in, until the main lounge was packed full with the "powers and principalities" of the Edo State Peoples Democratic Party (PDP) of that time, ahead of a pre-scheduled caucus meeting.
Easily recognisable among them was the durable Chief Sam Ogbemudia, debonair Mike Oghiadome (deputy governor), gangling Samson Ekhabafe (now late) and feisty Aguele (state chairman).
Then, the air would freeze as Chief Anenih sauntered in, in a white kaftan, with everyone standing up in courtesy to "The Leader".
It didn't take long for his sharp police eyes to notice the oddity of my presence.
"Youngman, who are you?", he muttered, before taking his seat on the two-seater sofa by the national flag.
"I'm Louis Odion."
"Louis Odion, the journalist?," he asked, eyes dimmed quizzically behind his trademark thick bi-focals, while others watched with growing curiosity.
"You guessed right, sir."
What remains difficult to tell till date was whether it was that casual retort or the self-assuredness with which it was expressed that stoked Chief Anenih's anger the more. With a voice now almost breathless in anger, he chose to direct his bazooka instead at the chief host (Igbinedion) and let out a fiery shot: "Lucky, what's this enemy doing here?"
"My Leader, Louis is my friend o. He's in town and came for a drink."
"What friend?!" he exploded further in a paroxysm of expletives and imprecations, too harsh – if not too mean – to restate here.
He continued: "He cannot be a friend. This boy abuses everybody every day with his pen. I used to think he was even an old person. I didn't know he's such a young boy like this."
In the brief, testy silence that followed, the building would seem to be quaking in the tremor of his venomous rage.
Then, the earth parted again and the volcanic eruption resumed in its blazing severity, with Chief Anenih finally thundering: "Young man, will you get out of this place!!!"
Of course, by now, such dark hint was enough to activate my survival instinct.
In his tribute, his old "political customer" in Edo State, Comrade Adams Oshiomhole, was right to describe Anenih as having genuine commitment to advance not just the nation at large, but his native State and the entire South-South in particular, although his methodology might not have appealed to everyone.
As I made for the door, the stentorian voice boomed again, "Young man, come back here!", with the same Chief Anenih beckoning me to come and sit next to him on the sofa!
Never in my life had I been this publicly embarrassed before.
After hesitating at the door, I turned back, more out of respect for someone old enough to be my grandpa.
Only then did the gathering of party grandees return to a cacophony of banters, but with their voices muffled, in deep reverence of the monumental presence of "The Leader", while awaiting the meeting to be called to order.
In our corner, a completely new drama began to unfold. After you chastise a child with the right hand, they say, you're obliged to cuddle him with the left. From the earlier bullying, "The Leader" suddenly and astonishingly resorted to patriarchal charms. The way he went about it was most disarming. He wasn't looking at me as he began to speak in a soft voice, having pulled closer on the sofa.
Cupping his mouth with the right hand so that not even anyone standing by could eavesdrop while facing the crowd, he whispered conciliatorily to me: "I can see you're really angry at the way I spoke to you now. Louis, that's me. Go and ask my children, when I'm angry I tell them off. After that, we're family again."
To break my last wall of defence, he doubled the flattery, "Louis, I never knew you were even this handsome," his face now lit with a broad smile. "But if I may ask you, why do you always like attacking me in your writings?"
"Sir, I'm only a journalist doing my work," I finally found my voice "As a reporter, I report facts. As a columnist, I only express my personal opinion. I may be wrong, but I don't mean to be disrespectful, sir."
Then, he sent for his aide, Odion Ugbesia, and asked him: "Do you know this man?"
"No sir."
"That's the famous Louis Odion, the journalist. He's your namesake and also from Edo. Take his number and give him all my direct numbers in Abuja and Benin and make sure you're in touch with him."
Indeed, that night marked the next phase of the complicated relationship I would have with Chief Anenih in the next decade. Which journalist – especially one whose forte is political reporting – will not swoon at securing unlimited access to arguably one of the biggest players in Nigerian politics at the time. A rich news source, undoubtedly.
But such access also comes its perils.
Unfailingly paternalistic, he would henceforth often ask ThisDay publisher (Mr. Nduka Obaigbena) whenever they met, "How's my son?", referring to me. And whenever Mr. Obaigbena wanted to pull my legs in the office, he would tease, "I wonder what you're looking for in the circle of those old men."
In his tribute, his old "political customer" in Edo State, Comrade Adams Oshiomhole, was right to describe Anenih as having genuine commitment to advance not just the nation at large, but his native State and the entire South-South in particular, although his methodology might not have appealed to everyone. No one can deny that as Works minister, he, for instance, facilitated the construction of the the critical Benin by-pass which has helped in no small measure to ease the perennial migraine of traffic gridlock within Benin City. Not forgetting the dualisation of the Benin-Asaba road and the Benin-Warri road.
The morning after a "political solution" was contrived to the Onshore-Offshore dichotomy palaver in 2002, I was the first journalist to get the exclusive, courtesy of Anenih, who presided over the presidential panel that sat all night to resolve the issue. That singular recommendation helped defuse mounting tension in the Niger Delta and brought immediate succour in particular to Akwa Ibom, which had had to endure zero oil receipt for months.
In remembering his flaws as a mortal, charity nonetheless obliges us to also acknowledge his strengths, chief of which was his generosity to unquestioning loyalty.
His sense of humour was something else. After being introduced publicly to Azu Ishiekwene, then editor of The PUNCH (against which he was vigorously pursuing a libel suit in court), Anenih quipped: "Ah, I never knew you already look lean," referring to Azu's petite frame. "By the time I would have won my case against you in court and you're forced to pay heavy penalty, I only wonder what flesh you will have left on your bones!"
Doubtless, Anenih's power and glory in the Olusegun Obasanjo (OBJ) years were never in doubt. The Anenih-Atiku story is a riveting one indeed. Both being disciples of the mercurial Shehu Yar'Adua, it is amazing how OBJ they brought to power also separated them later.
When OBJ's campaign continued to limp late 1998 under Iyiorcha Ayu, it was Atiku Abubakar, as a popular account goes, who helped conscript Anenih, against OBJ's initial reservations. No sooner had he taken charge than things changed dramatically. The secret? He simply reactivated the old boys' network of Yar'Adua's PDM by coopting members as OBJ's field commanders in the 774 councils across the country. Only then did OBJ's presidential campaign leap froward like tiger, a testimony to Anenih's extraordinary talent at organising and mobilising.
So, he instantly gained OBJ's confidence and cemented his fame as the new "Mr. Fix It". When the PDP's presidential flagbearer later sought his counsel on the choice of running-mate after the party's convention in Jos in 1999, "The Leader" did not hesitate before recommending Atiku as "the deputy you can trust" from the shortlist of five names.
The story of how dire circumstances would set the two old Yar'Adua collaborators apart three years later is a story for another day.
But a man of uncommon passions, he similarly triggered extreme emotions in others – cult worship among disciples and fierce hostility in adversaries. In what could only have spoken to a hangover from his professsional creed as policeman, he never seemed able to tolerate neutrality: you were either an ally or an enemy. To him, loyalty must include a willingness to inherit the leader's enemies as well.
That peculiar psychology would invariably redound on our relationship. He was never able to see reason in drawing a distinction between the professsional and the personal. Hard as I tried, I never succeeded in making him understand that I could only be held personally accountable for views expressed in my column, and not for reports published as objective representation of facts in the finest tradition of journalism.
When the report was positive, he would call me and affectionately say, "My son". When the story was unflattering and I called and began by saying "Daddy", he would angrily snap back, "Will you stop 'daddying' me! You've done it again. You're a bad son!!"
When I wrote a column in his defence in 2004 as editor of The Sun based on my personal convinction, in the heat of his skirmish with then Governor Orji Kalu of Abia, he was deeply emotional when he called and spoke Ishan in expressing appreciation of my courage to write against the owner's interest.
But that "father-son" amity only endured till another negative story appeared in the Sunday Sun I edited till January 2008 or the National Life that I was MD/editor-in-chief of for the next three years.
He would seem to finally give up on me after I accepted an offer to serve as Information commissioner in Edo State under Oshiomhole. Interestingly, the very day I was sworn in Benin City in 2011, the governor showed me a text message one busybody had sent him, sympathising with him for appointing the "lap dog of Anenih, your arch political enemy, as spokesman".
We both laughed at such juvenile tomfoolery.
"The Leader" would appear to have found it too hard to bear hearing the voice of his once beloved "son" speaking against him on national television or local radio stations or issuing statement denouncing "the Edo godfathers" on behalf of the Edo State Government. Again, he seemed unable – or unwilling – to accept the philosophical distinction between the professional and the personal.
Then came February 17, 2012, the day Oba Eradiuauwa gave out his daughter in marriage. While exiting the marquee at the palace, Governor Emmanuel Uduaghan of neighbouring Delta State stopped to compliment me "for helping to reposition Comrade's information management. I notice things have changed since you took over."
Uduaghan's kind words only seemed to annoy "The Leader" who stood beside him. Then pointing finger at me menacingly, he growled: "Odion, you'll soon see what'll happen to you!" He repeated that four times.
So, when on April 29, 2012 a band of gunmen laid siege to my private residence in Benin City and only retreated after the local vigilante boys engaged them in a gun duel, it was humanly impossible for me not to draw a parallel between that descent to barbarism and the undisguised threat of February 17 and, therefore, become paranoid at "The Leader".
In remembering his flaws as a mortal, charity nonetheless obliges us to also acknowledge his strengths, chief of which was his generosity to unquestioning loyalty.
Louis Odion is a Fellow of the Nigerian Guild of Editors (FNGE).

Load more