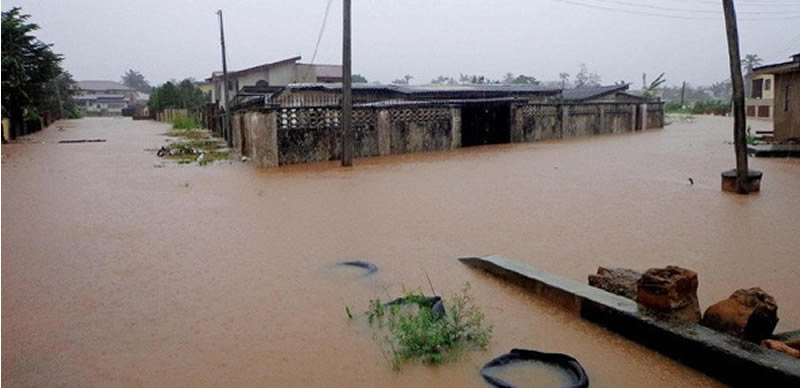 A cluster of five farmers' cooperative societies in Umuuzu, Ogbaru Local Government Area (LGA), Anambra, has lamented the loss of about 70 hectares of rice farms to flood disaster.
Mr Christopher Okwuosa, the Chairman of the cluster on Wednesday in Awka, listed them as Ikedi, Onyedikachi, Chioma, Chukwubuzo and Ofuobi cooperative societies.
The National Emergency Management Agency (NEMA) had earlier said that the 16 communities in Ogbaru completely submerged were the worst hit of the nine LGAs affected in by this year's flooding in Anambra.
Okwuosa who is also the Director of Children of the Farmers Club lamented that the entire rice farm which would have been due for harvest in November were ravaged and washed away by the flood.
He said the expected yield from the rice farms of about 420 tonnes valued at about N18 million which would have gone to the Nigerian food supply and the farmers had been lost.
"Our cluster is made up of five cooperatives and has about 250 hectares to cultivate, but due to challenges which border on finance, we were only able to cultivate 70 hectares.
"But these efforts have been washed away by the flood which hit Anambra in September, just two months to the time we are expected to harvest our rice produce.
"We lost all these rice farms when the flood reached Umuuzu, a neighbouring community to Ihiala Local Government Area which was last to be submerged.
"Our expected yield is about six tonnes per hectare, which is about 420 tonnes.
"This represents a huge shortage in local rice supply and total loss to the farmers; about N18 million is involved," he said.
Okwuosa said members of the cooperatives were now in serious need of assistance in order to enable them to pay back the loans they took from their various lenders.
The chairman of the cluster called on the Federal and Anambra Governments to come to their aid.
He said apart from rice which was the dominant crop, members also engaged in fisheries and other crops, including yam and cassava which were also destroyed by the flood.
"We are supposed to harvest in the first and second weeks of November but that is not possible again. The relevant authorities can also come and see for themselves.
"Some members also have fish ponds and other crops which were all equally washed away.
"We are now heavily indebted because we obtained loans with the farms as collateral in order to procure inputs and run the farms, but see where we found ourselves now," he said.
Okwosa expressed fears that if the affected farmers were not adequately taken care of to get over the flood-induced losses, Nigeria might suffer serious food scarcity in the coming years.
He said all the achievements of the increased farming population and food output recorded in recent years would be eroded because there would not be motivation for willing farmers to return to farms.

Load more