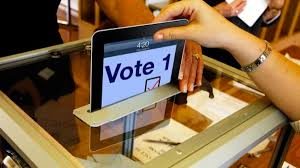 Mr Gbenga Sesan, Executive Director, Paradigm Initiative Nigeria (PIN) has called on the Independent Electoral Commission (INEC) to adopt electronic voting system for major elections in the country.
Sesan made this disclosure on Wednesday in Abuja in an interview with the News Agency of Nigeria (NAN).
E-voting or electronic voting refers to using computerised voting machines to cast ballots instead of the conventional ballot papers.
According to him, voting electronically reduces election rigging especially in areas where inaccessible by the electoral officials.
He said that technology had been infused in our lives and adopting e-voting was important in ensuring that everyone was carried along in the electoral process.
"Many years ago as a student in the university I will go and look for my lecturers to sign a form.
"We don't need to do that anymore in schools registering for courses are now automatic because everything is done online.
" I finished less than 20 years ago, life has moved on, things change so we are agitating for e-voting.
" 20 years from today nobody will be arguing about e-voting, because we don't have a choice,'' he said.
He said that there was no way INEC can manage elections effectively without the use of e-voting.
" So if there is a credible institution called INEC that really wants to get the job done, it has to introduce electronic voting to ensure that all areas are captured during elections.''

Load more