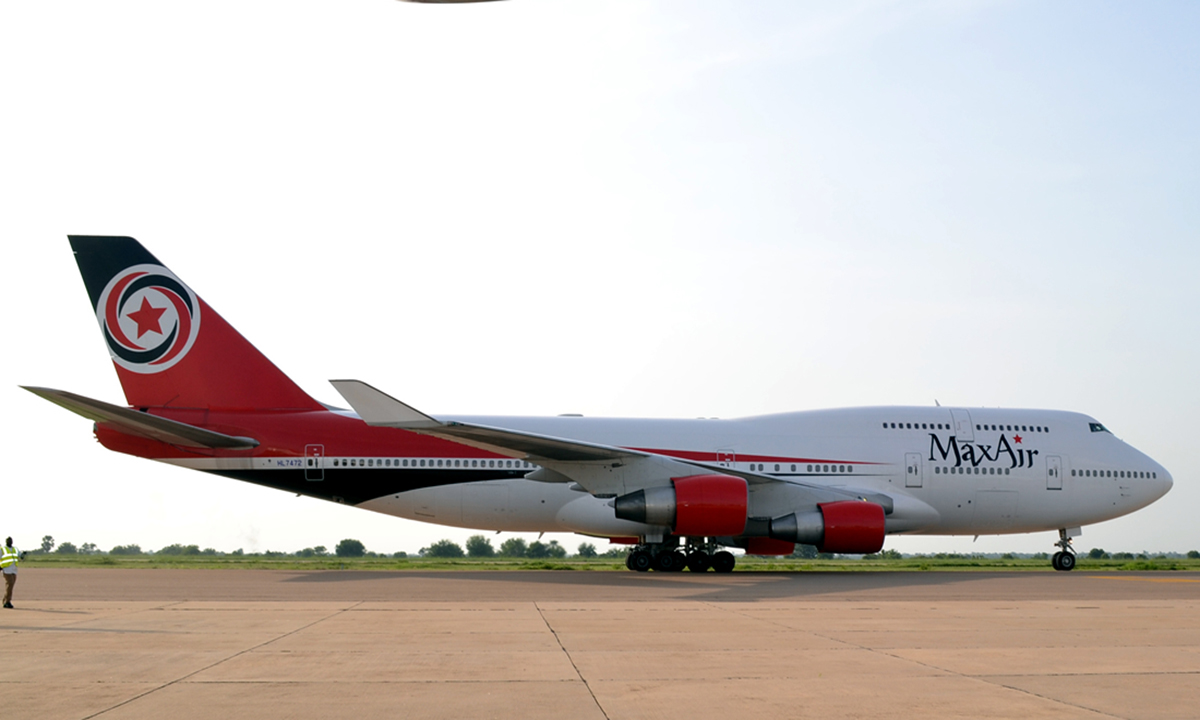 MaxAir Limited, the latest airline to join Nigeria's domestic air market, has announced its decision to expand operations to Port Harcourt and Yola routes as part of its expansion drive.
Its Executive Director, Mr Harish Manwani, told News Agency of Nigeria (NAN) on Wednesday in Abuja
that the airline had shown resilience in four months of operations by adding more routes.
Manwani said that the airline would commence Abuja-Port Harcourt and Abuja-Yola flights on Nov. 5 in addition to the existing routes.
He said that the airline added Maiduguri route to its operations in September, adding that Lagos-Port Harcourt route would soon be added when the arrangements were perfected.
He explained that the expansion drive would also involve acquiring more and efficient aircraft, saying that MaxAir currently operate three B737 for domestic operations and three B747 for Hajj and Umrah.
He stressed that "we are starting Yola and Port Harcourt routes on Monday, Nov. 5, to be followed by
Abuja-Yola, Yola-Abuja, Abuja-Port Harcourt and Port Harcourt-Abuja but we have not finalised Lagos-Port Harcourt and Lagos-Yola routes.
"Like Lagos-Kano, it is one flight everyday but Abuja-Kano is two flights daily in the morning and evening, while Abuja- Lagos is three flights every day.
"We currently operate with three B737 aircraft and three B747 in our fleet of which the 737 are deployed to domestic routes, while the 747 are used for Umrah and Hajj operations.
"We are planning to add more but since we are just starting the expansion programme, we will do that in phases.
"So far, business has been going on well because we started with three destinations, namely: Kano, Lagos and Abuja, and we added Maiduguri in September and on Nov. 5: we are adding two more routes: we plan to expand to more routes early next years."
Manwani said that MaxAir airline was committed to changing the flight experience of air travellers in Nigeria by offering on-time departures and quality in-flight services.
He said the airline had ensured that it controlled the situations that were within its control, saying that passengers flying through MaxAir could attest to its level of on-time performance on all routes.
"What we can control, we control and what we cannot control like weather and strike, we cannot control.
"MaxAir currently has about 360 staff and as we continue to expand our domestic routes, employment will also continue to increase.
"Predominantly, I want to say that 97 per cent of our workforce are Nigerians and our company is an indigenous company because there are capable hands in the country to handle our operations."
The airline, which commenced domestic operations in the country in July, operated an approximately 1,414 flights within three months, according to available statistics.
MaxAir is one of the leading carriers in Hajj and Umrah operations in the country for decades.
The airline started operations with three routes such as Kano-Lagos, Lagos-Kano operated once daily, while Kano-Abuja, Abuja-Kano operated twice daily and three flights daily on Abuja-Lagos, Lagos-Abuja route.

Load more