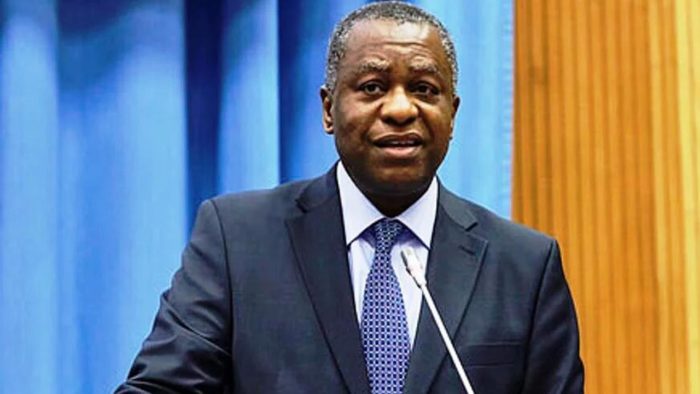 Foreign Affairs Minister Geoffrey Onyeama says that Federal Government has approved 500,000 dollars, 350 electoral kits and seven vehicles to facilitate successful conduct of Nov. 18 Guinea Bissau legislative election.
The Minister said this when Jose Filho, Special Representative of the UN Secretary General to Guinea Bissau, visited him on Tuesday in Abuja.
"Mr President as the Chairman of the Authority of Heads of State and Government of ECOWAS recently sent a delegation to Guinea Bissau together with the president of ECOWAS president
"It is in the framework of establishing peace and stability in Guinea Bissau and starting with election, Mr President has approved for substantial number of election kits to enable them to carry out this election.
"Without those kits that are over 350, it is going to be difficult to carry out the election.
"The last batch of it is about to be delivered and in addition, Mr President has approved the supply of seven vehicles with about 500,000 dollars," he said.
According to him, the substantial amount of money and other logistics are to help Guinea Bissau get out of what has been a very difficult situation for a number of years.
"Guinea Bissau is very important for the ECOWAS sub region as you know that President Muhammadu Buhari is the chairperson of the ECOWAS and interested in political situation of Guinea Bissau.
"And of course he is happy with a lot of progress that has been made in that country, Nigeria has helped supply electoral kits to facilitate the election in that country.
"Infact it seems that this was really a pre condition for them to move to electoral front," he said.
Onyeama expressed delight that Nigeria was able to play that important role, stressing that Buhari in his capacity as the Chairperson of ECOWAS, was watching the situation in Guinea Bissau very closely.
According to him, Nigeria, together with UN and ECOWAS, are determined to ensure complete political stability in Guinea Bissau to permit economic development that the country needed.
He expressed Nigeria's appreciation for the UN envoy's visit, stressing that it would help in charting a way forward for Guinea Bissau as one of the priorities for ECOWAS.
The envoy thanked Nigeria for the role played in the preparation for the legislative election in Guinea Bissau, stressing that the presidential election would take place in 2019.
"Nigeria played an important role in furnishing kits for the election, those kits will enhance successful conduct of the election, this is a great achievement for the normalisation of the political situation in Guinea Bissau.
"We came here to exchange views and express appreciation not in the name of Guinea Bissau but in the name of the international community because I represent the UN in Guinea Bissau.
"I thank Nigeria for the assistance to Guinea Bissau," Filho said.

Load more