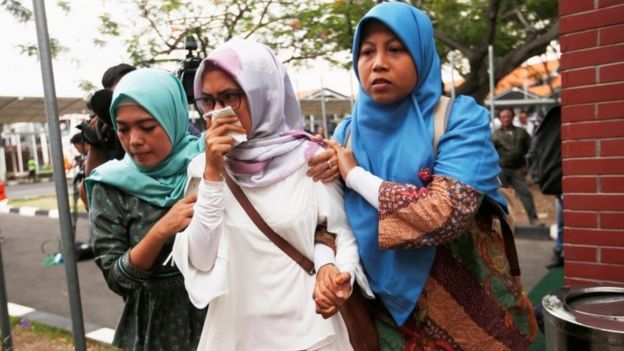 Indonesia's National Transportation Safety Committee (KNKT) on Thursday, held a closed-door meeting with representatives of the crashed plane producer, Boeing, and officials of the U.S. National Transportation Safety Board (NTSB), KNKT Chairman Soerjanto Tjahjono said.
Tjahjono said the visit of Boeing and NTSB officials was a form of assistance commitments to help Indonesia in carrying out investigation into the crash of the brand new Lion Air Boeing 737 Max VIII plane which KNKT has yet to get familiar with.
"We are yet to have sufficient knowledge about the plane nor trainings related to new features and technology of the brand new plane model," Tjahjono said, referring to the meeting with 16 officials from Boeing and NTSB.
The crashed Lion Air plane was Boeing 737 Max VIII, a brand new variant of single-aisle Boeing 737 family, arrived at Indonesia in August.
Lion Air was apparently the largest operator of the plane in Indonesia.
Boeing 737 Max VIII has bigger body than the previous 737 planes, advanced and quieter engines.
The plane provides more legs room for the passengers as well as larger cargo compartment inside its larger body.
Lion Air Boeing 737 Max VIII plane carried 189 passengers and crew when it crashed enroute to Pangkal Pinang on Monday morning.
Indonesian authorities predicted that the plane dived at rapid speed from a height of 3,000 feet and hit sea surface that made its body and people inside the plane fragmented into pieces.
Indonesian air transport authorities have ordered examination over all Boeing 737 Max VIII planes operated in the country after the crash took place.

Load more