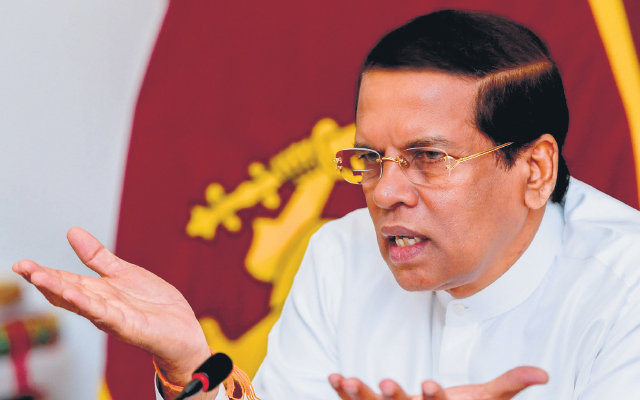 President Maithripala Sirisena of Sri Lanka cancelled his three-week suspension of parliament on Thursday, amid a political crisis triggered by his sacking of the prime minister on Oct. 28.
Parliament would sit again on Monday, a spokesman for the Speaker's office said.
The move came a day after Speaker Karu Jayasuriya met with Sirisena and two days after the party of ousted prime minister Ranil Wickremesinghe held a major protest in Colombo.
Sirisena unexpectedly fired Wickremesinghe on Friday and replaced him with former president and strongman Mahinda Rajapaksa, after falling out with his prime minister over policy, including over the leasing of a major port.
Sirisena has also accused Wickremesinghe of corruption.
On Saturday, Sirisena announced that parliament would be suspended until Nov. 16, prompting calls from the UN and the European Union to reverse the decision.
Sirisena was elected as president in 2015 largely thanks to support from Wickremesinghe's United National Party (UNP), and the two went on to form a coalition government, which was however plagued by infighting.
Sirisena's UPFA has only 96 seats in parliament, while the UNP has 106 members in the 225-seat parliament, but the president has the authority to name the prime minister.
The president was previously a minister under Rajapaksa, but quit his government in 2014 to stand against him in the presidential elections, accusing him of large-scale corruption and extrajudicial killings.
Rajapaksa spearheaded the military campaign to defeat Tamil rebels and end the country's 26-year-long civil war in May 2009, but has been criticized for the brutality with which it was carried out.

Load more