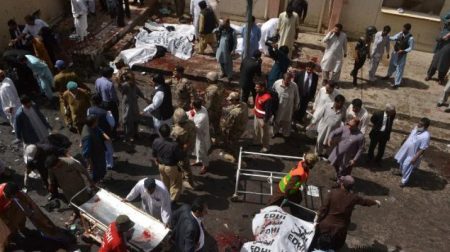 Up to 273 Afghan civilians were killed and 550 others injured in separate incidents and terrorist attacks in October, a monitor group "Based on Civilian Protection Advocacy Group (CPAG) said on Thursday.
"The casualties figures from 23 provinces of the country, 273 people were killed and 550 others wounded in all security incidents happened in October," the independent CPAG group said in a press release.
The group said the rest of casualties happened in suicide attacks, roadside bombs, mortar attacks and clashes between Afghan forces and the Taliban.
According to figures released by CPAG, "about 128 people including children and women suffered casualties in Afghan forces' night raid operations as 83 people were killed and 45 others wounded.
"In September, 240 civilians lost their lives and 350 injured as a result of terrorist attacks and clashes across the country.''
It said the reasons behind high casualties in October were targeted killing of parliamentary election candidates, attacks on election campaigns and polling centers particularly during the parliamentary elections day, which was held on Oct. 20.

Load more