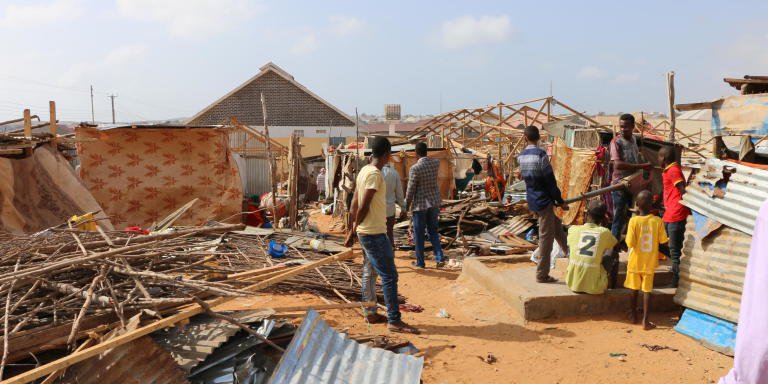 An international charity said Thursday a spike in violence and insecurity in Somalia has forced 21,000 people to flee their homes in the country, pushing thousands of families into a humanitarian crisis.
The Norwegian Refugee Council (NRC), citing figures from the UN High Commissioner for Refugees (UNHCR) protection and returns monitoring network, urged parties to the conflict to take all precautions to minimize civilian casualties.
"We are alarmed that fighting has forced thousands of people to run for their lives.
Several of the hardest-hit communities are in insecure areas, where aid agencies are unable to reach them," Victor Moses, country director for NRC, said in a statement issued in Mogadishu.
According to the charity, the largest number of people displaced by fighting and insecurity in October was from the Lower Shabelle region, followed by Hiran, Bay, and other regions.
It warned that children surviving in the camps are especially vulnerable, noting that without enough food, shelter, clean water and sanitation, they are left vulnerable to disease outbreaks.
"We fear many displaced people will be left without life-saving assistance.
"These families were recovering from last year's drought, and fighting has now pushed them back into crisis," Moses added.
The charity warned that more regions of the country see rise in fighting in October, pushing thousands of families into crisis as many flee to makeshift camps, surviving in flimsy shelters with little protection from the rains.
The charity called on parties to the conflict to allow free access to humanitarian agencies to safely provide aid, in line with the international humanitarian law.
According to the UN, there are 2.6 million people displaced in Somalia from conflict, insecurity, drought and other causes.
The NRC said some 294,000 Somali children are acutely malnourished, of which 55,000 are severely malnourished, putting them at risk of death.
It urged the international community to scale up their support, saying the 2018 UN humanitarian aid appeal for Somalia has received about 857 million U.S. dollars, sharply down from some 1.3 billion dollars in 2017.

Load more