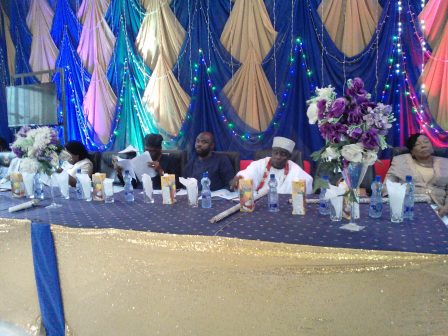 Gbenro Adesina/Ibadan
Speaker House of Representatives, Yakubu Dogara has pointed out that contemporary studies have confirmed the sharp and abysmal decline in reading culture among the various ages and population segments in Nigeria.
Dogara, who stated this on Thursday November 1, 2018 at the University of Ibadan's Kenneth Dike Library Day Celebration while delivering a paper titled, "Distortion: Erosion of the Reading Culture", noted that some education stakeholders have also attributed the drop in reading culture in Nigeria to the lack of adequate awareness of importance of books, inadequate library facilities, poor access to books and other reading materials, growth in televiewership culture and the migration from text book culture to electronic learning that is yet to fully gain ground.
Dogara, who was represented by Hon. Saheed Akinade-Fijabi, representing Ibadan North West/South West emphasised the significance of creating the awareness of the importance of reading for leisure and not necessarily to pass exams, stressed, "Without the opportunity to read widely, what is taught in the classroom cannot be reinforced. Consequently, students cannot develop skills of locating, selecting, organising, evaluating and processing information".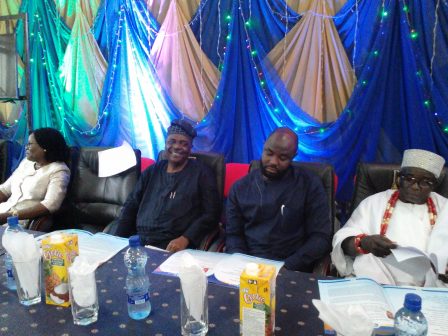 Emphasising the relevance of internet as a tool that aids fast learning, understanding and practice, the legislator lamented the negative use of internet by the youth, saying, "Added to this are the distractive and wrong application of information and communication technology device. As good as ICT is, many observers say it has also cast some measure of negative effects on Nigerians, especially on their reading habits. This is also as they say that internet obsession has caused many kids to waste valuable times surfing diverse anti-moral and socially inclined websites".
Highlighting reasons for the decline in reading culture, Dogara said, "Another major phenomenon that has been linked to dwindling reading culture is low level of computer literacy among citizens. A large number of educative materials now come in electronic copies, thereby making it almost inaccessible to people who are not knowledgeable in the use of computer application. The dearth of libraries and the state of our public and institutional libraries has not also helped matters. Our libraries must be adequately funded and should be very conducive for reading with constant electricity supply and provision of adequate electronic learning aids".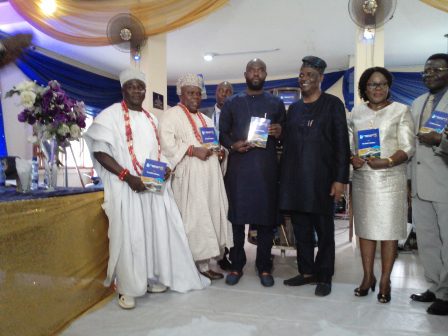 He stated further, "Corruption is another major factor which has affected reading culture among Nigerian youths. Situations such as trading sex for grades, using money to buy examination grades, sales of ungraded textbooks to students at high fees and cheating in examinations are some of the corrupt practices that have found their way into our institutions of higher learning. Those who engage in these infamous acts consider reading a waste of time. Studies have also confirmed that whereas reading should be for self-development, majority of students at the secondary and tertiary institutions see reading as means to passing examination. Students, on their own, have stated that in a highly materialistic society where people are rated in line with the 'fatness' of their bank accounts, there has not been enough compelling reasons for them to bury themselves in book. This, unfortunately, is a dangerous mindset that will spell doom for the future generations".
Dogara concluded, "To develop a good reading culture, parents and caregivers must consciously stimulate children in that direction, provide them books and importantly, let them read for fun. The main objective of promoting a reading culture must be to make reading a habit that is loved and appreciated by our citizens. On our part as legislators, we are committed to encouraging more reading Nigerians, promoting the increase of reading materials, establishment of more libraries and introduction of sound educational policies that would reward aggressive readers as well as academic excellence. As popular maxim says, "Readers are Leaders", we are poised at building a new generation of world-class leaders who can tackle complex national challenges through the skills and knowledge they have acquired through intensive reading".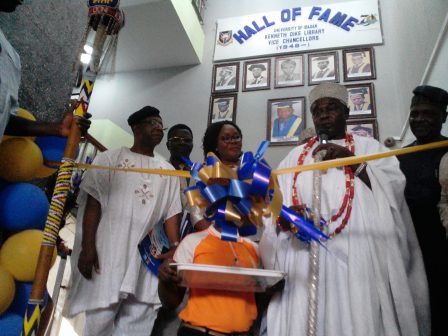 Speaking earlier in her welcome address, the institution's librarian, Dr Helen Komolafe, who noted that the library is the oldest university library in Nigeria, said, "the library system of the University of Ibadan is one of the largest university libraries in West Africa with a collection which is estimated at well over one million volumes…. The library, which seats about 1250 readers in addition to staff offices and space for the collections, has a commercialised bindery for book repair".
She declared that to address the global paradigm shift from print resources to electronic-based information resources, the library has subscribed to a number of electronic journals, databases and databanks which users in or out of campus could access via the library webpage on the institution's website for free, with or without library-provided passwords.
Komolafe stated that the library is being gradually digitalized with the aim of converting the library's manuscripts and rare collections into machine-readable format so as to conserve and preserve the library heritage, provide multiple electronic access to rare, fragile and/or aged, important and not-easy-to-replace print resources and enhance the visibility of faculty research/intellectual output via the proposed UI institutional repository and virtual library housed in the library.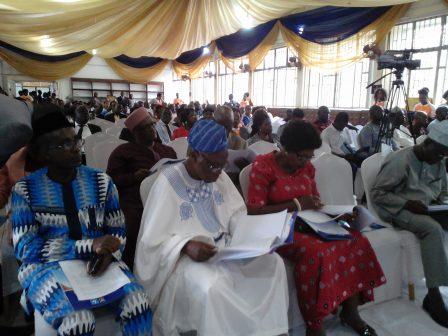 She urged the academic staff to submit their research publications to the library through the Head of Departments.
The librarian, who appealed to well-meaning Nigerians to financially assist the library so that it could be expanded as there is lack of space to accommodate hardcopy materials, stated that a library software is been developed locally in the library and "will soon be deployed to manage projects and dissertations which is almost becoming a nuisance and threat to the environment because of the usual space constraint".
In his remark, the institution's former Vice Chancellor, Professor Olufemi Bamiro, was of the opinion that there is no need to solicit for funds for the extension of the library saying that the building is sufficient to contain whatever materials it has if it could be completely digitalised.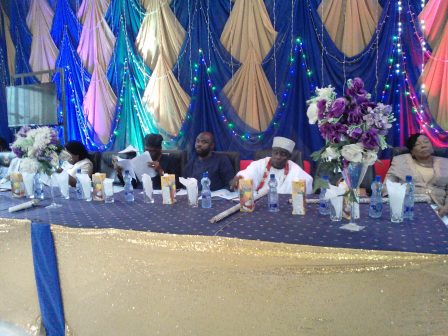 He said, "The library is excellent. It has moved from analogue to digital. Technology has killed that space you need. I was impressed to find over 450 inaugural lectures of this university on the internet".
The highlights of the programme was the book launch titled "KDL History: The Journey Continues…", which was reviewed by Dr P. O. Olaojo, cutting of the anniversary cake, presentation of gifts to Hon. Dogara and Ooni of Ife, Oba Adeyeye Enitan Ogunwusi, Ojaja 11, who was represented by two royal fathers: Oba Adewale Adekunle, Agbolu of Agbaje Ife and Oba Olumayowa Fayemi, Elerefe of Ile-Ife and cutting of tape for Hall of Fame.

Load more