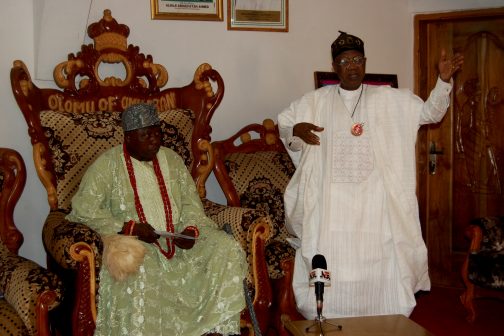 The Minister of Information and Culture, Alhaji Lai Mohammed, has said the Federal Government is fixing the nation's dilapidated infrastructure despite its lean resources, occasioned by the fall in oil prices.
The Minister stated this in Omu-Aran, Kwara State, on Friday when he paid a courtesy visit to the Olomu of Omu-Aran, Oba Abdulraheem Oladele Adeoti.
"Things have gone so bad in the country before the advent of this Administration and these are what we are working to fix. Before we came to power oil prices soared but nothing was done with the money.
"But, upon assumption of office, the price went down significantly. Even at that, we have done more with the little resources than the previous administrations," he said.
While responding to the Oba's plea for the development of more infrastructure in the area, Alhaji Mohammed said the contract for the Ilorin-Omu-Aran-Kabba-Lokoja road has already been awarded, adding that he would soon inspect the project to find out what is hindering its timely execution.
He congratulated the Oba on his ascension to the throne of his forefathers and equally condoled with him over the death of the first Military Governor of Kwara State, Brig. -Gen. David Bamigboye (Retd), who hailed from Omu-Aran.
In his remarks, the Olomu appealed to the Federal Government to establish an institution of higher learning in the community due to its rich history and population.
He also called on the Federal Government to immortalize the Late Gen. Bamigboye as a mark of honour for his patriotism and selfless service to the people of Kwara State.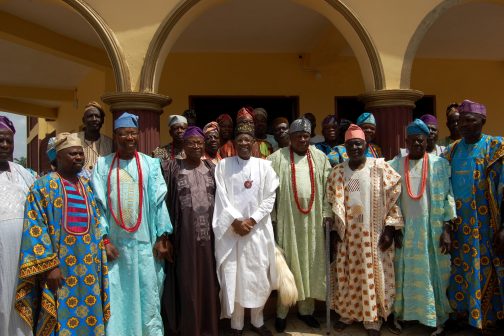 "He did a lot as a Governor of the old Kwara State in the areas of education and infrastructural development. We want the Federal Government to immortalize him by naming a street in his honour in the Federal Capital Territory," the traditional ruler said.
Meanwhile, the Minister also on Friday paid a condolence visit to the family of the late Gen. Bamigboye.
Speaking during the visit, he described the late General as a statesman who laid the foundation for the socio-economic development of Kwara and Kogi States.
"The General left his indelible marks in the sand of time, especially as it relates to Kwara State. What you have witnessed today in terms of socio-economic development is largely due to the effort of the late General," he said.
The Minister said despite his young age when he assumed the leadership of the old Kwara State, Gen. Bamigboye showed uncommon foresight and wisdom in governing the state.

Load more