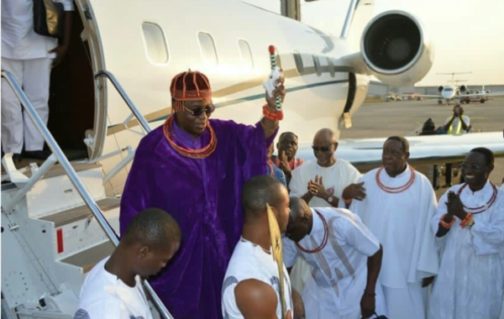 The Benin Monarch, Omo N'Oba Ewuare 11, has arrived in Abuja ahead of Prince Charles' visit to Nigeria.
Oba Ewuare, who is visiting the Federal Capital Territory a second time since he ascended the throne, was received at the Nnamdi Azikiwe International Airport by elated sons and daughters from Edo State.
In an interview with Rep. Johnson Agbonayinma, the News Agency of Nigeria (NAN), gathered that the monarch was in Abuja on the invitation of the British High Commission.
The lawmaker expressed belief that during discussions, the Oba will throw up the issue of stolen Benin Artefacts.
"The Omo N'oba N'Edo Uku Akpolokpolo, Oba Ewuare 11, is here on a visit as he has been invited by the British High Commission for the fact that Prince Charles is coming to Nigeria.
"They found our Oba worthy and Prince Charles requested that he should be invited to have a private discussion with our monarch.
"Don't forget that our monarch is one of the oldest monarchs in Africa and Oba Ewuare 11 is doing everything possible to bring dividends of democracy to empower the youth, the women and the men.
"So that Nigeria can be safe not only about security but also about our tradition and our culture among others.
"I know personally that our Oba will also discuss the issue of those artefacts that were stolen long ago. We deserve to have them back.
"I believe the Oba will do the needful by projecting the Edo Kingdom and Nigeria in general," he said.
Also Sen. Mathew Urhoghide told NAN that the Oba was here on an official engagement as he was one of the few traditional rulers to meet with Prince Charles.
"For the Oba's visit, I feel great," he said.
Prince Charles, his wife Camilla, the Duchess of Cornwall, have begun African tour and one of the countries to visit is Nigeria.
Britain's Prince Charles and his wife Camilla landed on Oct. 31 in the Gambia for the first leg of a week-long African tour aimed at strengthening ties with Commonwealth nations.
The Prince of Wales, heir to the throne, took over as head of the 53-member Commonwealth of Nations in April, succeeding his mother, Queen Elizabeth II.
He and Camilla are later expected to visit Ghana before ending their trip in Nigeria on Nov. 6 to 8.

Load more