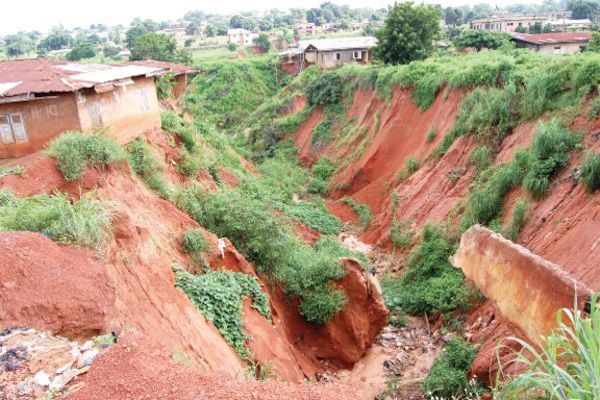 The People of Ihengwu Villiage, Oko in Orumba North Local Government Area of Anambra have called for outright ban on sand excavation at all beaches in Oko Town.
Ihengwu is one of the five villages that make up Oko Town, a community that is at the throes of massive gully erosion for a long time.
The villagers who protested on Saturday call on Anambra Government to save them from the Oko Town leadership who are campaigning for closure of the excavation site in Ihengwu village only.
Mr Peter Okoli, Chairman of Ihengwu, said the recent move by the town leadership to stop excavation in Ihengwu was not because of erosion but a witch-hunt for stopping payment of royalty.
Okoli said Mr Cyprian Nwammuo, President-General of Oko Town was collecting the sum N200 per tipper from the village but did not use it to solve any of their problems.
He said the flood from Eke-Oko market which was channeled to Ihengwu was causing serious erosion challenge for them, adding that the town refused to do anything to save them.
"The president-general of Oko and some women of the town protested against sand excavation in Ihengwu but our problem in Oko is not about sand excavation, they are protesting for their money, not excavation,
"The reason they protested was because we agreed to be giving Oko community N200 each tipper but we also demanded that they should control the flood at Eke-Oko.
"They never did anything to control the flood, so Ihengwu stopped paying them the N200 royalty, instead we are using that money to construct drainage for the Eke-Oko flood.
"We are not against closing of the beach, rather we demand that the excavation be stopped in the whole area and not Ihengwu alone, if we stop and others continue, it has not solved any problem.
"There are many communities excavating sand on the Odo River, Nanka, Awgbu, Amaokpala, Aronato in Ndikelienwu are all there, so if they want to ban excavation, it should be in all these places.
Also, Mr Arinze Anyalobu, Leader of Ihengwu Youths, said it would only be fair that all mining activities at the various sites were stopped.
He regretted that instead of addressing the danger flood from the market posed to lives and property of Ihengwu people, the president-general was busy pursuing personal vendetta.
"We are suffering here, the village hall is at risk, fences are collapsing, even houses are threatened because of the market we gave them land to site market, Federal Poly Oko is also in Ihengwu.
"Since 2017 when we stopped giving this money they have not let us to know peace, they claim the excavation is responsible for erosion and should be stopped.
"We are not against stopping it in Ihengwu, they should stop it in entire Oko and other communities in Orumba North that are also excavating," he said.
An elder in the community, Mr Marcel Ezeofor, said Ihengwu people were peace loving who were not at war with the town.
Ezeofor said the erosion had been with them since history and dismissed the claim that that excavation was responsible for it.
"We want peace; they stopped us for three years and allowed others, let them stop it excavating sand from the beaches in Oko.
"We are facing flood challenge here since four years, let them come and control this erosion which is destroying land and property because all of us are from Oko.
Reacting, Nwammuo the president-general of Oko said he was not collecting any of N200 per tipper from the village but insisted that the excavation should stop.
Nwammuo admitted that the market was causing flood challenge in Ihengwu but added that the local government authority was planning how to check it.
"Oko as a community is working hard to see that they stop the excavation, the state government has challenged us to stop excavation before they can help.
"Eke-Oko is newly constructed and the council chairman is working to control the flood caused by the newly built shops, they don't pay anything to me, it is not true," he said.
When contacted, Mr Mike Okonkwo, Commissioner for Environment in Anambra, said he had met with stakeholders in Oko over the matter and that it was being addressed.

Load more