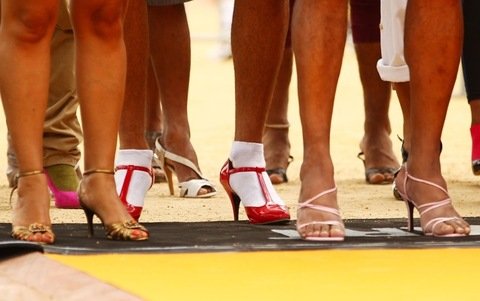 Mr Dede Kalu, Chief Executive Officer, DAK Marketing Company, on Sunday said that high heel makes women smart, elegant and beautiful and they should manage wearing it very well.
Kalu on the sideline of the 2nd annual high heel race at the National Stadium, Lagos.
He said that the sport-tainment is about women being smart on heels when they wear them.
"It is absolutely necessary for ladies to wear high heel because it gives them a unique look.
"They should stop putting their high heel in their bags, they should wear it always.
"If ladies should wear high heel in Nigeria and Africa they have to be smart about it, because abroad, at the age nine, they have started walking on it," he said.
He said that the high heel race was first of its kind in Nigeria and Africa, although, they do it in Europe.
Kalu, however, said that it took him nine years to decide to do high heel race after he witnessed an accident at the Alaba International Market expressway.
"A girl of 21 year- old, trying to cross the expressway and couldn't run fast on her high heel and she was knocked down, and the driver ran away.
"We rushed the girl to a nearby hospital and called the parents, after eight days, the parents came to thank me and said that the girl died.
"I thought if she was my daughter, sister or wife and that happened, how will I feel, that made me to decide on high heel race," he said.
He said he was able to get participants through advert on social media platforms- Twitter, Instagram, Face book and some other platforms and about 500 persons signified interest in the race.
"We invited them and put them through some questioning and medical checks, then trimmed down the number to 100 who are participating today," he said.
Shan George, a Nollywood actress, and special guest of honour,said that the high heel race was an interesting event.
"It moved away from all the beauty pregnant this and that and brought in a new entertainment dimension that people should key into.
"Four inch high heel race is good, and our heel should be rugged as our roads and we should be able to walk on them very well.
"If you want to buy heels, you should know your weight, we have different high heels in the market, wedges, pencil, square, stiletto and others.
"But wear what you are comfortable on and be smart walking on it," she said.
Precious Chukwuma, a 400 level mass communications student from the National Open University, Lagos who emerged overall winner at the event took home a cash prize of N100,000.

Load more