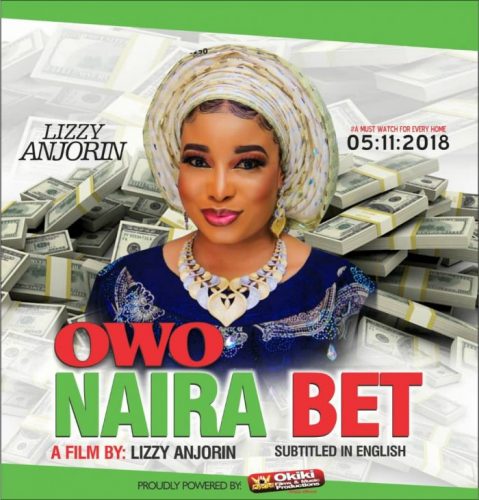 Award-winning films and music marketing company, Okiki films & music production has set for the release of the most anticipating Nollywood flick titled 'Owo Naira Bet' produced by talented and industrious Elizabeth Anjorin.
The movie, Owo Naira Bet, which has been touted to be the most expensive movie production in the history of Yoruba movie production, has it roughly gulping N40 million from the purse of the producer.
It will be officially released to the market shelves on 5th of November 2018 as several home video lovers excited as it has been one of the much-awaited releases in the Nigeria films market.
Owo Naira Bet was written and produced by Lizzy Anjorin, and directed by renowned Seun Olaiya and stars Saidi Balogun, Olaiya IGE, Jumoke George, among others that featured in it.
The movie talks about how people spend lavishly without making any investment for their future or for their children. Owo Naira Bet was premier last year in an event-like a carnival at Ruby's Event Centre, and was witnessed by dignitaries from all walks of life.
The marketer, Okiki films and music productions came into existence in 2006 as a full-fledged entertainment company with a mandate to engage in; Music and Film Production; Marketing and Distribution; CD and DVD Production; Video coverage, editing and Artiste Management.
In recognition of its highly educating and entertaining movie and musical production works and its excellent distribution network and marketing strategy over the recent years, Okiki films and music productions has received over 20 local and international awards from Nigeria to the United States of America.

Load more