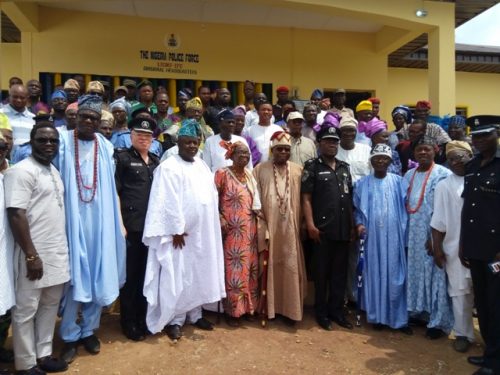 Adejoke Adeleye, Abeokuta
In order to complement the effort of the Ogun State Police Command to curb criminality in the State, the Ijebu-Ife Community has commissioned a divisional police station to help tackle security challenge along the Lagos-Benin Road.
Speaking at the commissioning of the station, the Deputy Commissioner of Police, Aminu Alhassan, representing the State Commissioner of Police, Ahmed Iliyasu said many templates had been designed for the Lagos/Abeokuta road because there were lots of criminality along the road.
"One of the template is that the commissioner has designated policemen to each section of the road and has ensured that the police work with all security apparatus along the road. The Vigilante Group Nigeria (VGN) are part of the police design," he said.
He also enjoined them the police to declare zero tolerance for criminality and assist the police in every way they could, as the police would not relent in assisting and to ensure that all communities were secured.
The Alaiyeluwa, Oba Adesesan Oguntayo, Ajalorun of Ijebu-Ife, in his speech said "our community has deemed it necessary to complement the onerous responsibility of providing security for life and property in the state by the police command, else we embarked on the construction of this new and modern divisional police station.
"As our town, Ijebu-Ife is strategically located along the Lagos/Benin road, we believe that this divisional police station will very much assist in curbing security challenges not only on Ijebuland but also in the country," he said.
The State Chairman, Police Community Relations Committee, PCRC, Alhaji Ibrahim Olaniyan, said the effort of the commissioner was now yielding result.
He urged other community not to leave the business of security into the hands of the government alone, saying that the idea of the divisional station came up because of the commissioner's effort in interacting with the community and that the people of the community had confidence in him and believe in Ogun State.

Load more