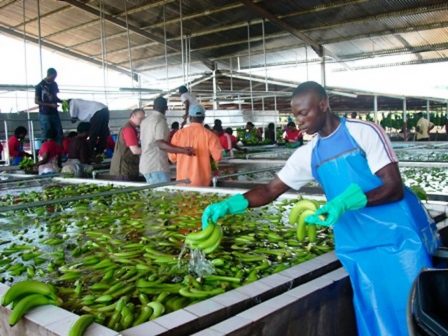 Six workers of Cameroon Development Corporation, CDC, the country's second largest employer, have had their fingers chopped off by militants of Cameroon's Anglophone separatists.
Journalducameroon.com said the fingers of the six workers, four men and two women, were cut at the weekend.
The workers were rushed to a government hospital Saturday in the English speaking southwestern town of Tiko.
One of the victims, 27-year old Christopher Ongene said armed men attacked them Saturday evening while they were working on a rubber plantation in Tiko .
"The people arrived when we were packing our bags and farm tools to leave. One of them shouted, how many times have we asked you not to work here again.
"Then one of them ordered us to put our hands on tree trunks and they started cutting. Some of our colleagues who wanted to escape were shot," he said.
Ongene said they were accused of defying instructions from the separatists not to go to work on the farms to protest President Biya's re-election and his expected inauguration tomorrow.
According to the report, victims were asked to make a bizarre choice between being shot or cut with a machete.
Journalducameroon reported that the workers opted for the machete.
The weekend attacks came 24 hours before the kidnap of 81 people, mostly students of the Presbyterian Secondary School, Nkwen, Bamenda.
The attacks also followed many other killings and kidnappings which had driven many plantation workers away from their jobs.

Load more