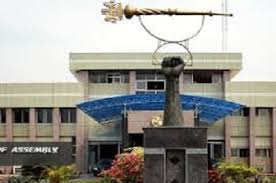 The Edo House of Assembly on Monday passed the 2018 Supplementary Appropriation Bill of N160 billion.
Gov. Godwin Obaseki had in December 2017 signed a budget size of N150 billion into law.
The passage of the revised Supplementary Appropriation bill was sequel to the consideration of a letter dated Oct. 30, from the governor, requesting the legislature to urgently consider and pass the proposed revised 2018 Supplementary Appropriation bill.
The motion to consider the bill at the committee of the whole was moved by the Majority Leaders, Roland Asoro, and seconded by Mr Damian Lawani, member representing APC Etsako Central and chairman of appropriation committee.
The House at the committee of the whole suspended its rules 42, 43, 44,45, 46, 47, 48, 55 to consider the bill.
Asoro said that the increment from N150 billion to N160 billion in the 2018 Supplementary appropriation bill was to enable the state government carry out more infrastructural development in the state before the end of the year.
The House after consideration of the proposed revised Supplementary Appropriation bill thereafter passed the bill.
The Speaker, Mr Kabiru Adjoto, thereafter directed that clean copies of the bill be sent to the governor for his accent.
Meanwhile, the Speaker has said that the house following due consideration with all members had decided to lift the suspension placed on Foly Ogedengbe, member representing APC Owan East constituency.
Ogedengbe was suspended alongside the former Deputy Speaker, Victor Edoror, for alleged gross misconduct in October.
Adjoto who however said that the suspension of the former Deputy Speaker continues, reaffirmed an earlier resolution of the house directing the former Edoror to return all official vehicle and property in his possession.
"I am calling on the state commissioner of police to take urgent steps to retrieve all official vehicles after 24 hours from the suspended former Deputy Speaker," he said.
Also during Plenary, the house observed a minute silence for the late Chief Tony Anenih who died Oct. 28.

Load more