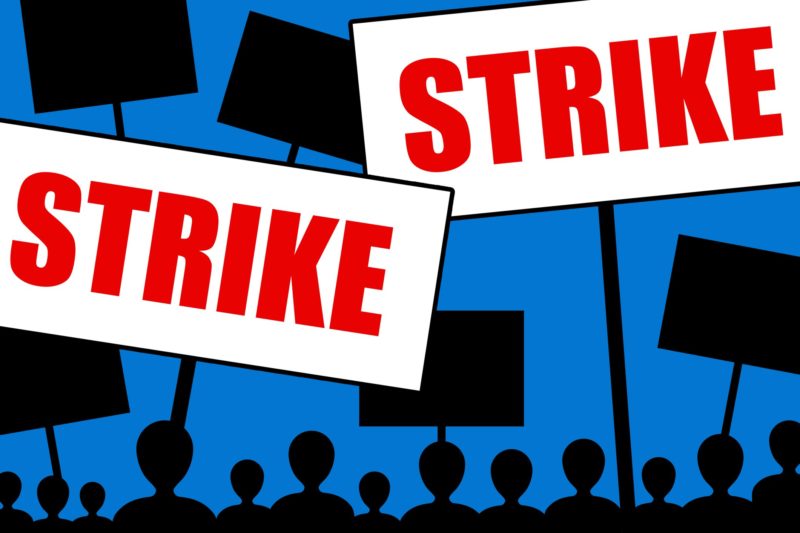 The Muslim Rights Concern (MURIC), a rights group, on Monday, urged the Organised Labour to shelve its proposed nationwide strike as it would be detrimental to the masses.
MURIC's Director, Prof. Ishaq Akintola, who gave the advice in a statement in Lagos, urged the union to dialogue with the government in the interest of workers and Nigerians.
MURIC also appealed to labour leaders against a strike whose major victims will be the poor masses.
The organised labour had threatened to embark on an indefinite industrial action from Nov. 6 in spite of a court order restraining the labour.
The labour is demanding implementation of N30,000 as minimum wage while the Federal Government offered to pay workers N24,000 and states agreed to pay N22,500.
According to Akintola, the same workers and innocent members of their families are most likely to suffer the devastating consequences of an all-out industrial action.
He said that workers' current poor pay cannot sustain NLC's directive for workers to stock foodstuffs in preparation for a long strike.
"Besides, will a general strike not inform the evacuation of hundreds of sick Nigerians from hospital beds? Will it not lead to an increased number of deaths of citizens who do not have the money to access private health facilities? What will happen to accident victims during a strike?
"Socio-economic activities will be paralysed. Banks will remain shut and even ATM machines may soon become dry.
"This strike may turn out to be an open invitation to hunger in the land.
"The impact on the oil sector is expected to be severe. Oil output is likely to be affected. Oil exports which hit 1.7 million barrels per day in October 2018 may come to a complete halt.
"It cannot be good news to stop oil exports at a time when the price of oil has risen and it is hovering between $76 and $80 after suffering a fall as low as $38 per barrel at the inception of this administration.
"This is capable of wreaking havoc on the economy. The naira will depreciate further, forcing prices of goods to skyrocket while both imports and exports will be affected as the ports go to sleep.
"This is why we are appealing to the NLC leadership to consider the implications of a general strike at this crucial time.
"By the way, is NLC certain that an irrational pay rise resulting from a forced increase in wages will not provoke retrenchment of workers? he asked.
Akintola said that the economy was badly managed by previous administrations, which led to a recent recession that lasted about a year.
"The quick recovery from the recession was due to the prudent management of the economy by the Buhari administration and its blockage of leakages.
"A general strike just when the economy is starting to look good will do workers no good,'' Akintola said.
He advised the labour leaders to focus on responsible leadership that favoured the citizens and queried labour's inaction against some policies of the legislative arm of government.
He called on the union to hold the National Assembly accountable for the nation's crisis and blamed the union for not challenging some of their negative decisions that affected the nation's economy.
"Positive activism demands that NLC should show concern for the reckless and selfish actions of the 8th NASS.
"We expect NLC to strike against legislative recklessness, not only against stomach infrastructure. A government that is providing infrastructure and bringing back the glorious days of rail transportation for Nigerian workers deserves NLC's cooperation,'' he said.
"N22.6 billion was released by the Federal Government to pay pensioners of the Nigerian Railway Corporation after they have been ignored for fifteen (15) years.
"A government that is paying pensions to retirees who have been ignored for years deserves NLC's understanding.
"For crying out loud, those 8.5 million children who are benefiting from FG's school-feeding programme are children of workers. The Federal Government has so far spent N49 billion on the project in two years. This is a government with a human face.
"We do not wish to be misunderstood. MURIC is on the side of Nigerian workers. We also believe that the present minimum wage of N18, 000 is unrealistic but NLC needs to time its action appropriately and put the blame where it really belongs.
"In conclusion, we appeal to NLC to shelve its planned strike action and go back to the negotiation table in the interest of Nigerian workers,'' he said.

Load more