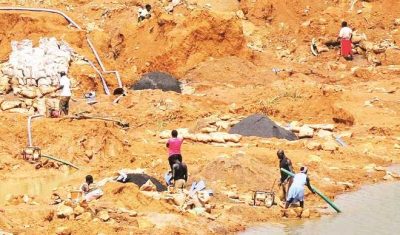 Alhaji Sani Shehu, the President, Miners Association of Nigeria (MAN), has appealed to the Federal Government to install sensors that can detect earth tremor at various mining sites.
Shehu made the appeal in an interview with the News Agency of Nigeria (NAN) on Sunday in Abuja.
He said that the appeal was because installation of detectors at the sites was beyond miners capacity.
The Federal Government set up a high level committee comprising the Minister of Mines and Steel Development, Federal Capital Territory, among others, to look into the recent earth tremor that occured at Mpape in Abuja .
The committee came up with some recommendations wherein one of them indicated that miners should install sensors at their mining operation sites.
The president said the suggestion was a good one and timely; however, he said that no indigenous mining operators would be able to afford and install such device at the mining sites.
"There is money in mining but not the type of mining that we are conducting in Nigeria; almost 99 per cent miners operating in Nigeria are small scale miners struggling to make ends meet," he said.
Mr Dele Ayanleke, the National Secretary of the association, said that earth tremor was a public concern that should be given maximum attention.
Ayanleke said that it would be impossible for local miners to install sensors worth millions of naira at their mining sites.
"It is the responsibility of the Federal Government to provide such device because even the so called big mining nations do not task their operators to install such gadget.
"We are appealing to the government to look into the recommendation.
"In as much as tremor is a natural disaster that can not be stopped, government must provide necessary mechanism and expertise to proffer solution on how tremor can be curbed.

Load more