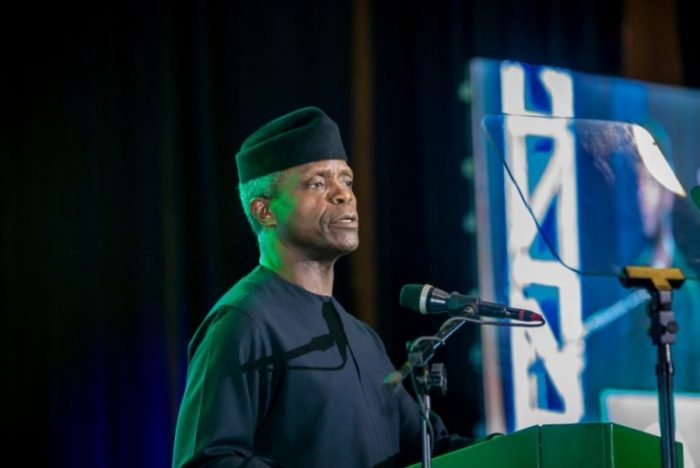 Vice President, Prof. Yemi Osinbajo, has urged Canadian investors to explore the opportunities that abound in Nigeria's education, health and transport sectors.
Osinbajo made the call while declaring open the Nigeria-Canada Investment Summit 2018 on Monday in Abuja.
The theme of the 2-day summit is "Fostering Strong Business Partnership into the Future.''
He said that already Canadian investors were familiar with opportunities in the power generation, renewable energy, development of gas to power, mining of solid minerals, agriculture and food processing, manufacturing and real estate sectors.
Osinbajo said that Nigeria and Canada had a long history of friendly relations as Commonwealth countries, as Federations, as well as a shared commitment to promoting global peace.
According to the vice president, the summit further confirms the mutual desire for deeper engagement not just between both governments but also business communities in both countries.
He said Nigeria was Canada's largest trading partner in Sub-Saharan Africa, adding that there were opportunities and scope for increased trade and investment ties between the two countries.
"Our medium-term economic plan, documented in the Economic Recovery and Growth Plan (ERGP) identified some of the sectors that many Canadian investors are already very familiar with as priority sectors.
"Power generation, renewable energy, development of gas to power, mining of solid minerals, agriculture and food processing, manufacturing and real estate.
"However, opportunities also abound in social infrastructure (education and healthcare) as well as physical infrastructure (air, land and sea transport).
"While we formulate the policies in government, we expect the private sector to make the necessary investments and encourage Nigerians and foreign investors to work with us towards the realisation of these opportunities.''
Osinbajo said that to accelerate the mobilisation of private capital towards the achievement of the ERGP, the Federal Government conducted 'Focus Labs' over a period of 17 weeks in the first half of 2018.
He said that the Focus Labs were special interventions targeted at resolving specific bureaucratic bottlenecks facing large-scale investments in Nigeria.
The vice president said that in the labs, investors sat with relevant Ministers, regulators and government agencies to resolve the investor's specific problems.
"The Focus Labs identified 22.5 billion dollars worth of private investments in six of our priority sectors, with the potential to create half a million jobs by 2020.
"10.9 billion dollars of these investments are -most ready to go- meaning that the issues delaying them can be resolved – and are being resolved – speedily. We intend to continue the use of focus labs to resolve problems investors may have.
"I also encourage Canadian investors interested in any of these sectors to reach out to the team at Nigerian Investment Promotion Commission (NIPC) who are here for the summit for additional information.
"Given Canada's strengths in these areas and the potentials of the Nigerian economy, I am certain that this Summit will lead to positive outcomes for all participants.''
He said that all of the efforts he outlined, around Ease of Doing Business and the resolution of bureaucratic issues could be summed up as `soft infrastructure.'
According to him, the Federal Government was making aggressive interventions in the 'hard infrastructure' elements as well as roads, rail and power.
He added that the government fully understood the very vital catalytic role that these would play for private investment.
Earlier in his remark, Mr Ryan Ward, Deputy High Commissioner of Canada to Nigeria, said that the forum was crucial going by the significant economic ties between Nigeria and Canada.
He said that Nigeria was Canada's biggest trading partner in sub-Saharan Africa as well as the largest investor into Canada from the region.
He said aside economic ties; there was an ever-increasing personal ties between the two countries.
"From over 70,000 Canadians of Nigerian descent to over 11,000 Nigerian students in Canadian schools.
"We are here to talk about how to bring more Canadian investors and business to Nigeria.
"If you look at sectors of growth in Nigeria, they are in line with Canadian expertise whether in infrastructure, telecommunication, natural resources extraction, aviation or technology,'' he said.

Load more