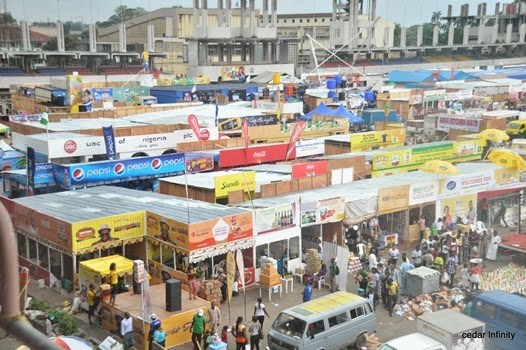 Some food vendors at the ongoing Lagos International Trade Fair on Monday decried the low patronage and inadequate facilities at the fairgrounds since its commencement.
The vendors, who spoke in Lagos, said that the low patronage was due to the activities of illegal hawkers within the arena.
According to them, water supply and security challenges are some other problems which the Lagos State Chamber of Commerce and Industry (LCCI) must urgently address.
The 2018 Lagos International Trade Fair is the 32nd edition organised by the LCCI and is presently in its fourth day.
It commenced on Nov. 2 and is billed to end on Nov. 11.
Mrs Cecilia Jegede of Rehoboth 247 canteen expressed disappointment in LCCI, organisers of the fair, for condoning the activities of illegal hawkers.
Jegede said that after paying N252, 000 for two outlets at the fair, there was no commensurate sales to justify the "outrageous'' expense.
She urged the LCCI officials to do the needful, so as to improve sales by the legal food vendors.
"Illegal food vendors have taken over the market from us, who are the bonafide vendors; people patronise them, while in their shops.
"Visitors to the fairgrounds are meant to eat at our canteens, but because illegal food hawkers have also been allowed to operate, sales have been dull here.
"We want LCCI to do something about this so that we can recover our financial commitment and still make some gains,'' Jegede said.
Jegede, however, commended the LCCI for providing adequate lighting but added that access to water had been a huge problem since the fair commenced.
"We were made to pay for all facilities at the fairgrounds, so I see no reason why we should be deprived of anything.
"We have been buying water outside; this is a bad situation and the organisers know we need enough water to cook with and to also maintain a neat environment,'' Jegede said.
Similarly, Mrs Susan Nwachukwu, operating as "Suzzy Best'', lamented that she had become demoralised with sales at the fairgrounds, adding that she had resorted to hawking her food around the grounds like the illegal hawkers.
Nwachukwu said that security was also another worrisome issue, alleging that police officers have been threatening them with tear gas, should anyone misbehave.
"As you can see people are not coming to eat here because there are illegal food hawkers around, selling cheaper than us.
"This is a breach of our agreement with the LCCI; we were made to pay for tents with the agreement that food hawkers will not be allowed to operate but to our disappointment, they are here.
" Sales this year cannot be compared with the previous years at all. Last year, I was making N20, 000 to N30, 000 per day but hardly can I make N10, 000 per day now.
"Furthermore, we have not been provided with sufficient water so we have to buy about four drums of water daily.
"LCCI should caution the police officers to stop threatening us because when the security providers continue to threaten us, we will operate in fear,'' Nwachukwu said.
Another food vendor, who claimed anonymity, being a first-timer at the fair, said she was discouraged and may not come for subsequent fairs, going by the treatment meted on her so far.
"The security challenges should be urgently addressed. You can imagine the situation whereby police officers entered the women's bathroom without prior notice on the pretext of fishing out those without entrance tags.
"Imagine the police coming into the bathroom to drive away the people without entrance tickets and tags. It is embarrassing and I do not feel secured anymore,'' the food vendor lamented.
According to her, sales have not been encouraging, LCCI officials have been rude and the police officers threaten the vendors at will.
"I have heard a whole lot of good stories about the fair before now, but I have different negative stories to tell. I just wish the fair will end soon.
Also, Mrs Oluwatoyin Falade of Benolos Ventures urged the LCCI officials to wade into problems bordering on water supply, security and activities of illegal food hawkers.
Falade said the problems needed prompt attention to enable food vendors make reasonable sales in a conducive environment.
"We have developed negative impressions about this year's fair which should be worked on to encourage us to keep patronising its subsequent editions,'' she said.

Load more