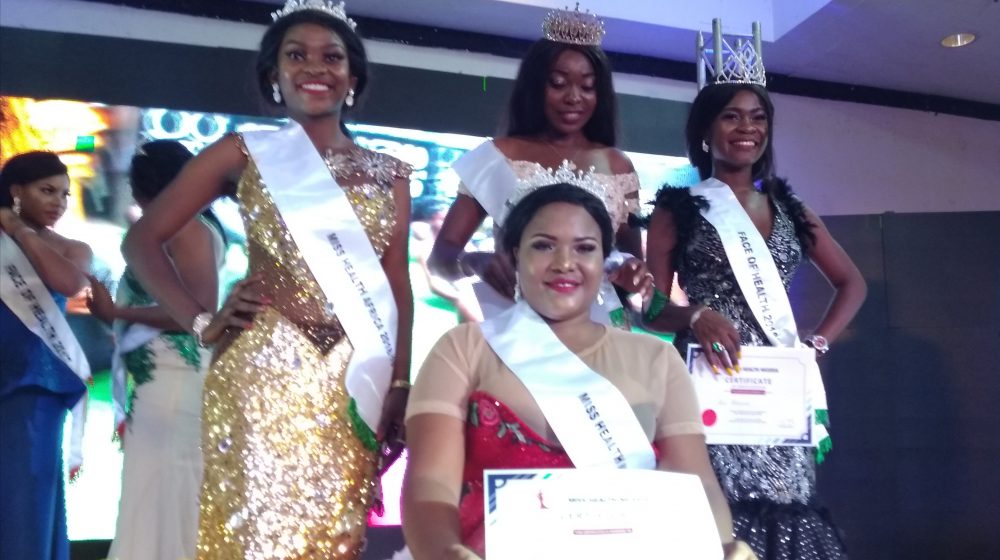 Olivia Uduma-Eze from Ebonyi and Ivory Chidi of Abia have been crowned as the 2018/2019 Miss Heath Nigeria and Africa queens respectively.
The prestigious pageant which is in its third edition held on Monday in Abuja at the Sheraton Hotel and Towers.
The event which ended in the early hours of Tuesday saw 30 contestants from different parts of the country trying to outdo one another to win the crown.
As was customary, the contestants represented and drummed support for people living with various diseases in the country.
The contestants were judged on different categories, including swimsuits, traditional attire and ballroom gowns.
They were also made to make presentations and answer educative questions from the judges as well as the audience with regards to the various diseases they were advocating for.
Uduma-Eze who was crowned as the 2018/2019 Miss Health Nigeria Queen represents Breast Cancer, while Chidi who was crowned Miss Health Africa Queen represents Hepatitis.
The second runner-up position went to Olayinka Adu from Ondo State representing Cervical Cancer and she was crowned as the 2018/2019 Face of Health Queen.
All the winners went home with a brand new car each.
There were other side attractions such as music, comedy and presentation of awards to well-meaning Nigerians, as popular movie stars, musicians and comedians were also on ground to thrill the audience.
The newly crowned queens are expected to embark on various health related projects for the next one year.
Uduma-Eze who spoke to NAN after the event expressed joy at winning the crown, adding that she was looking forward to begin her reign with some health advocacy projects.
"I feel overwhelmed, I am super excited and I can't wait to start to advocate for health awareness and delivery in the country.
"This is because a healthy nation they say is a wealthy nation,'' she said.
Chidi on her part said she was elated to have scooped the African queen award, adding that there was a lot of work to be done in the health sector.
"It is a great pleasure and I am honoured to have been chosen among so many other contestants to serve in this capacity, however, there is a lot of work to be done in the health sector and I have a project that will cut across all the states of the federation.
"I am going to be doing a whole lot of girl-child and health advocacy to ensure that maternal and infant mortality is reduced to the barest minimum.
"I am also going to be advocating for people suffering from mental health, autism, and so on,'' she said.
According to Chidi, there are many projects she would embark on and I want you all to join me in this journey as it is going to be a wonderful, power-packed, project-filled one year reign.
Nick Bebiem, the Executive Director of the pageant described the show as great, adding that the winners were well deserving of their crowns as they worked really hard for it.
"Their job now is to begin to advocate for a better and good health delivery in Nigeria and Africa at large.
"This is their immediate task,'' he said.
Bebiem also disclosed that they would be embarking on a medical outreach to Guzape, Abuja in December, adding that the outreach would be focusing on the fight against Malaria.

Load more