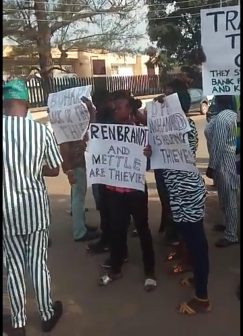 A group of Spring Bank depositors on Monday morning stormed the premises of the Special Offences Court, Ikeja, Lagos to protest in a $200 million diesel scam case that involved an international oil company, Trafigura Baheer BV and its Nigerian associates, Yahaya Kwande, Osahon Asemota, and five companies.
The protesters claimed that Spring Bank collapsed because it financed the oil contract, thereby making them to lose their deposits.
They called on the court to do justice in the case by ordering the accused persons in the case to pay back the funds they surreptitiously stole from Spring Bank so that they can get their deposits back.
The Federal Government had instituted a three-count charge of conspiracy to commit a felony, stealing and receiving stolen property against Trafigura, Kwande, Asemota, and their companies Trafigura PTE Limited, Mettle Energy and Gas, Rebrandt Ltd, and Jil Engineering and Oil Services Limited.
The case is being prosecuted by Mr Rotimi Jacobs SAN on behalf of the Economic and Financial Crimes Commission (EFCC).
Two weeks ago when the case came up in court, a prosecutor, Mr Adebisi Adeniyi told the court how one of the accused persons, Yahaya Kwande had jumped the administrative bail granted him by EFCC.
The other accused person, Asemota, also brought a medical report granted him by the hospital to have a three day bed rest. This prompted the court to adjourn till today for arraignment of the accused persons.
When the matter came up today, lawyer to Asemota, Mr Anthony Osa-Orhue Agarunwonyi told the trial judge, Justice Mojisola Dada that the health of his client has gotten worse. He said his client (Asemota) could hardly walk. He thereafter challenged the lead prosecution counsel to the EFCC to use the instrument at their disposal to verify the health status of Asemota. He urged the court to grant an adjournment again for him to get better. He further provided a copy of the medical report he produced in court at the last adjourned date and said that he would soon file a fresh medical report before the court.
Jacobs however reacted to the medical report, calling it "strange" and that it did not disclose any information.
Justice Dada reminded the lawyer of his promise to bring his client to court today. The lawyer pleaded with the court to give Asemota more time to recover.
Trafigura was represented in court by Chief Wole Olanipekun SAN, leading his son, Bode, also a Senior Advocate of Nigeria. Prof Taiwo Osipitan SAN represented the third defendant, Yahaya Kwande.
Justice Dada adjourned the case till November 28, for arraignment and trial of the defendants.

Load more