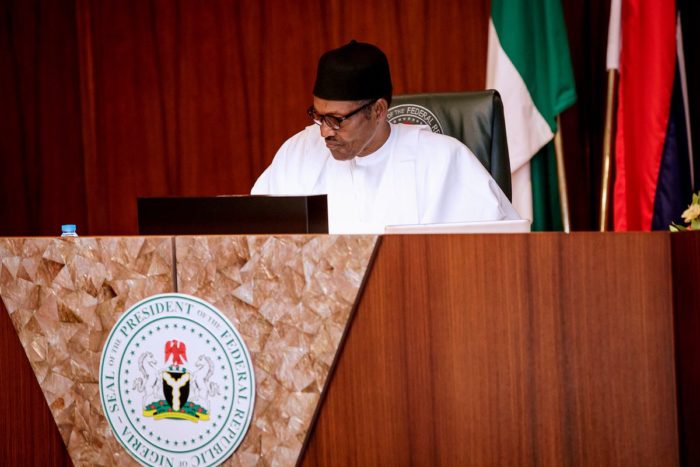 President Muhammadu Buhari has forwarded the 2019 to 2021 Medium Term Expenditure Framework (MTEF) and Fiscal Strategy Paper (FSP) to the National Assembly for approval.
The President of the Senate, Dr, Bukola Saraki, read the letter at plenary on Tuesday.
In a letter addressed to the President of the Senate, President Buhari, urged the lawmakers to expeditiously consider and approve the document.
The Federal Executive Council (FEC) had on Oct. 24, 2018, approved the 2019 to 2021 MTEF, which consists of N8.7 trillion Budget proposal for the 2019 fiscal year.
The MTEF and FSP provide the framework for the budget and lawmakers are expected to debate and approve it before presentation of the 2019 budget to the joint session of the national assembly.
Following the meeting, the Minister of Budget and National Planning, Udoma Udo Udoma and the Director-General of the Budget Office, Ben Akabueze unveiled a draft of the document.
They explained that the Federal Government would reduce the 2019 budget from N9.1 trillion to N8.7 trillion in 2019.
The 2019 budget as contained in the MTEF and FSP is premised on an oil production volume of 2.3 million barrels per day at $60 per barrel, exchange rate of N305 per dollar, inflation rate of 9.98% and a nominal GDP rate of 3.0%.
Meanwhile, N6.9 trillion is projected to fund the budget, debt service for the same fiscal year was estimated at N2.1 trillion.
Other key highlights for the 2019 budget include Share of Oil Revenue -N3.6 trillion, Independent Revenue-N624 billion, Statutory Transfer N506 billion, Sinking Fund N220 billion, Recurrent (non-debt) N4.7 trillion, aggregate capital expenditure N2.7 trillion among others.

Load more