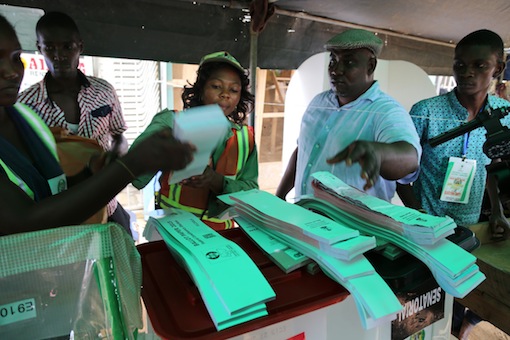 The Independent National Electoral Commission (INEC) says it will make the 2019 ballot papers voter friendly to enable it to deliver free, fair and credible election to Nigerians.
Mr Festus Okoye, INEC National Electoral Commissioner in charge of Anambra, Enugu and Benue, made this known when he addressed media executives in Enugu on Monday.
Okoye said that the commission would roll out massive voter education to enlighten the electorate on how to vote their candidates in the 2019 polls.
He also urged the political parties to join INEC in educating the masses to vote for their candidates, stressing that voter education should not be left to the commission alone.
Okoye said that INEC was negotiating with the Nigerian Bar Association (NBA) on the prosecution of electoral offenders, noting that "the commission lacked the capacity to prosecute the numerous electoral offenders".
"We lacked the capacity to prosecute those that are involved in multiple registrations, so we are discussing with the NBA for collaboration."
He reiterated that the commission had not changed its position on Zamfara, noting that only an order from a court of competent jurisdiction could change INEC's stand on the state.
"For now there is no such order from any court," he said.
Okoye also decried what he described as multiple and conflicting court orders, saying "it is not healthy for the country's electoral process.
" Courts should be circumspect in granting orders and should grant orders that can be obeyed, " he said.
Okoye said the commission would track all vehicles conveying sensitive materials in the forthcoming elections and plot e-collection of results.
According to him, "this does not mean that we will abandon all forms used for elections".
He said if the INEC bill before the National Assembly was passed, the commission would then deploy information communications technology in the conduct of elections in the country.

Load more