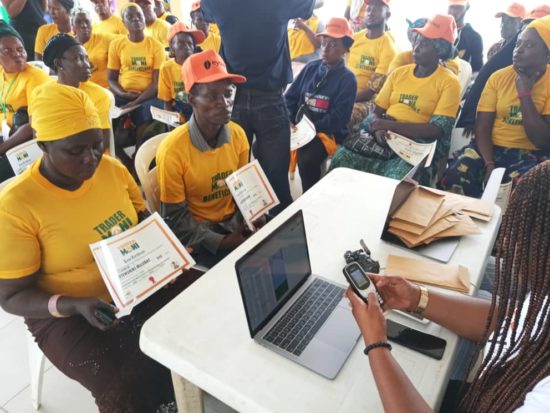 Vice-President, Prof. Yemi Osinbajo and Gov. Akinwunmi Ambode of Lagos State, on Monday, monitored the Tradermoni scheme in the state, targeted at assisting traders to boost their businesses.
The All Progressives Congress (APC) governorship candidate in Lagos, Mr Babajide Sanwo-Olu, also joined the duo as they visited the Ketu, Bariga and Oshodi markets.
In an interview with newsmen after the visit to the markets, the Senior Special Assistant to the Vice President on Media, Mr Laolu Akande, said that the visit to the state was to see the impact of the scheme.
Akande said the visit was also to assure the traders not captured among the two million beneficiaries that they would be captured in the next tranches.
"The visit of the Vice-President to Lagos was to see the impact of the scheme and interact with the traders in the markets, and he assured them that the fund will be increased to capture more people.
"Our plan is that between now and December, we would have captured the two million traders.
"Already, we have handed the fund to 800, 000. We have enumerated all the two million and we know who they are.
"That does not mean that this is the end of the programme. Our plan is to achieve the two million before the end of the year and add more people to subsequent tranches," he said.
Akande said that the initiative, launched under the Government Enterprise and Empowerment Programme (GEEP) in partnership with the Bank of Industry (BOI), had assisted 1.1 million Nigerians.
According to him, over 1.1 million Nigerians — market women, traders, artisans, farmers -– are currently beneficiaries of GEEP, which comprises FarmerMoni, MarketMoni and TraderMoni.
"There are over 809,000 beneficiaries under TraderMoni while the rest are beneficiaries of FarmerMoni loans and MarketMoni for farmers and Small and Medium Enterprises (SMEs) in the country."
Earlier, the Executive Director, BOI, Mrs Toyin Adeniji, urged beneficiaries to refund the loan within six months.
"It is not a national cake. The fund is targeted at empowering the traders.
"We expect that if they pay back, they are not only helping themselves but also the community," she said.
The scheme is to make two million petty traders receive N10, 000 and on repayment of their loan, receive 15, 000.
On repaying the N15,000, they get N20,000, until they are able to get up to N50,000 loans.

Load more