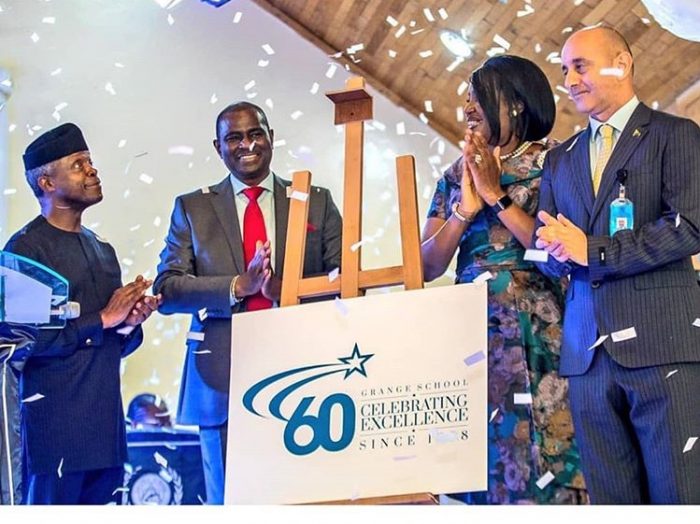 By Daniels Ekugo
Nigeria's Vice President, Prof. Yemi Osinbajo and the Managing Director and Chief Executive Officer of Airtel Nigeria, Segun Ogunsanya, have commended Grange School on celebration of its diamond jubilee.
Osinbajo unveiled the anniversary logo of the Grange School at the unveiling ceremony, which took place at the school's premises in Ikeja, Lagos, recently in celebration of the institution's diamond jubilee.
Ogunsanya congratulated Grange School for "bequeathing an enduring legacy on future leaders and contributing positively to the growth of the nation's educational sector."
Highlights of the event included a performance from the school choir, with a rendition from the primary and secondary musical band, as well as the grand unveiling of the 60th anniversary logo by the vice president.
Osinbajo, who was the special guest of honour at the event, commended the school for providing quality education in the last 60 years.
He said there is a link between quality education and poverty reduction.
Osinbajo also spoke on the federal's government's agenda for inclusive education in Nigeria, as part of the United Nation's Sustainable Development Goals (SDGs).
"Education erases poverty by almost 60 per cent in a community, increases earnings by 10 percent and reduces a nation's inequality. To eradicate poverty, we equip the young people with education; this is to develop the category of people ready to take on the challenges of the 21st century," he said.
"We have a threefold plan; first is ensuring that we are able to attain all of the sustainable goals. Those standards include school enrolment, quality of education, adult literacy, quality of teaching, and we intend to meet all of those targets."
Guy Cassarchis, the school's headmaster, while giving an address said Grange School understands the importance of quality education.
He said the students are taught to be role models and mentors capable of dealing with life's challenges, especially after school.
He announced the planned launch of a football academy which will eventually be accessible by other talented children outside the school, opening up opportunities for them to be scouted by international football clubs that have partnered with Grange school.
Also speaking, Awuneba Ajumogobia, chairperson of the Grange's governing council said, the school has become a reference point in primary and secondary education in Nigeria.
She said graduating students enjoyed first choice privileges from some of the most prestigious tertiary institutions globally.
Ajumogobia attributed the school's impressive academic accomplishment to its dedicated teachers, intelligent students and adequate support of stakeholders.
The first in a series of events to mark the school's 60th anniversary, the logo unveiling was well attended by captains of industries and important dignitaries.

Load more